SWISS KRONO GROUP Presents Innovations at BAU 2011
Kategorie: nota de prensa
09. February 2011 | "As one of the world's leading specialists in wood-based materials, we presented innovative products and eco-friendly solutions at the major industry event BAU 2011," says Uwe Jöst, the CEO of KRONOPLY GmbH, "thus showing an international trade public that the future of sustainable, environmentally friendly building has already begun at the SWISS KRONO GROUP."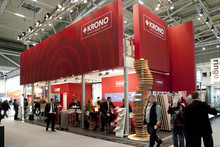 SWISS KRONO GROUP Presents Innovations at BAU 2011 – Successful Global Player Impresses International Trade Public

"As one of the world's leading specialists in wood-based materials, we presented innovative products and eco-friendly solutions at the major industry event BAU 2011," says Uwe Jöst, the CEO of KRONOPLY GmbH, "thus showing an international trade public that the future of sustainable, environmentally friendly building has already begun at the SWISS KRONO GROUP." The trade show presentation was convincing and impressive, consistently communicating all product categories and business units under the umbrella of the SWISS KRONO GROUP in line with its recently relaunched corporate design. The new KRONOPLY website also debuted at BAU 2011. The optimised online portal now appropriately positions the successful company in keeping with its current offerings and the KRONOPLY brand values: modern, innovative and international.

I Love My Planet – KRONOPLY Launches a New Environmental Campaign
"The only known natural place in the cosmos where we humans can live is our Earth," says Uwe Jöst, the CEO of KRONOPLY GmbH, with conviction. "And we all need to responsibly check every area of our lives for more environmentally friendly alternatives." In a new brochure focusing on environmental protection that was presented at BAU 2011, KRONOPLY proclaims its active commitment to the environment. Titled "I Love My Planet – and Eco-Friendly Wood-Based Materials", it shows and describes how modern, healthy wood-based materials can be consistently manufactured using environmental sound methods. At the company's stand, trade fair visitors also learned about environmental product declarations (EPDs) and sustainable production processes.

Premiere of the New Product That Won't Burn You: Flame Retardant KRONOPLY OSB SF-B
No better forum could have been chosen for the premiere of the innovative new flame retardant KRONOPLY OSB generation, KRONOPLY OSB SF-B. A record 238,000 trade visitors, 25 per cent of which hailed from over 150 countries outside Germany, converged on BAU 2011 in Munich – the world's leading trade fair for architecture, materials and systems – to inform themselves between the 17th and 21st of January 2011. They were correspondingly enthusiastic about the new flame retardant KRONOPLY OSB SF-B (compliant with building material class B1 according to DIN 4102), with which KRONOPLY is setting yet another milestone with its competence in the field of wood-based materials. As the only manufacturer of flame retardant OSB boards, KRONOPLY now offers environmentally aware planners, users, dealers and consumers the means to build eco-friendly houses that also provide excellent protection against fire. Users expressed great interest in the new flame retardant OSB version, which emerged as a trade fair highlight. The positive response confirmed that KRONOPLY has once again succeeded in setting the stage for a sales hit.
New Products from Depalor and Flooring Producer KRONOTEX
Visitors were also able to convince themselves that the SWISS KRONO GROUP is a global player with decorative wood-based materials as well. The impressive architecture of its stand integrated the latest chipboard décors from the current Depalor collection, which were specially developed in France for the German market. Besides melamine-coated boards in a range of new colours and surface textures from its French subsidiary, which are mainly interesting to wood dealers and for applications in furniture, trade fair stands and shops, the SWISS KRONO GROUP showcased innovations from another of its companies: KRONOTEX GmbH & Co. KG. Based in Heiligengrabe, Germany, it has an annual production capacity of about 60 million square metres of laminate flooring at its single site, making it one of the world's leading manufacturers of laminate flooring. Its team was on hand in Munich with their latest collection, "floors for living". In addition to new decors, visitors were especially interested in the successful product "Mammut long boards". Mammut from KRONOTEX is the absolute non plus ultra of laminate flooring. Extremely hardwearing, universally installable and boasting a naturally elegant appearance, Mammut is flooring that meets all expectations. The SWISS KRONO GROUP's commitment to supplying wood-based materials for completely natural, healthy living also extends, with the products made by KRONOTEX, to designing rooms, a fact which was impressively proven at the fair.

Positive Signal for 2011
"Once again, BAU has turned out to be an excellent platform for boosting our company's business," sums up Jöst. "We had interesting conversations with building experts from all over the world, ranging from wood dealers, planners and architects to building contractors." For KRONOPLY and the SWISS KRONO GROUP, the BAU trade fair in January was a great start in 2011. Both existing and prospective customers were wowed by the forward-looking concepts and product innovations of the SWISS KRONO GROUP. And as is its practice, once again the KRONO team held a special customer event. In keeping with the KRONO corporate philosophy proclaiming a commitment to "naturalness and genuineness", the customer evening was exceeding natural and fresh. Live music was provided by a quartet of young female saxophonists, and the catering was outstanding with freshly prepared exotic cocktails and delicious finger food. It added up to a perfect trade fair highlight with a pleasant atmosphere in which everyone felt inspired to talk animatedly about their work and personal lives. At the end, many of them left saying "see you next time!"

The SWISS KRONO GROUP is already planning to exhibit once again at the 20th BAU trade fair in Munich from the 14th to 19th of January 2013.
Five Latest Articles
More articles