Calculating condensation with the SWISS KRONO online tool

In order to analyse whether condensation will occur in an exterior wall or roof structure, all the elements or material layers forming part of the structure are included in the calculation. The SWISS KRONO online calculator will perform this calculation for you with incredible ease.

You can select different board materials in the calculation tool. As well as SWISS KRONO OSB, you can also select plasterboard, gypsum fibre, insulation boards and various others. If the desired material is not on the list, you can also define materials individually and enter the data yourself. For insulation, you can choose between fibre insulation materials, EPS, XPS, wood fibre, PU and polystyrol and in each case enter the thicknesses. There is a choice of three different lambda values for fibre insulation materials. If the presets don't fit, here too there is an option to enter your own values.

This example shows the condensation computation for constructing a SWISS KRONO exterior wall with F30 fire protection:

9.5 mm plasterboard
12 mm SWISS KRONO OSB/3 or SWISS KRONO OSB/F****
KVH (15 %) / insulation (85 %)
15 mm SWISS KRONO DP50 or WP50
Counter battens (ventilation level)
Suspended façade, e.g. weatherboards

The calculation for this exterior wall would be as follows (counter battens and façade are not taken into account):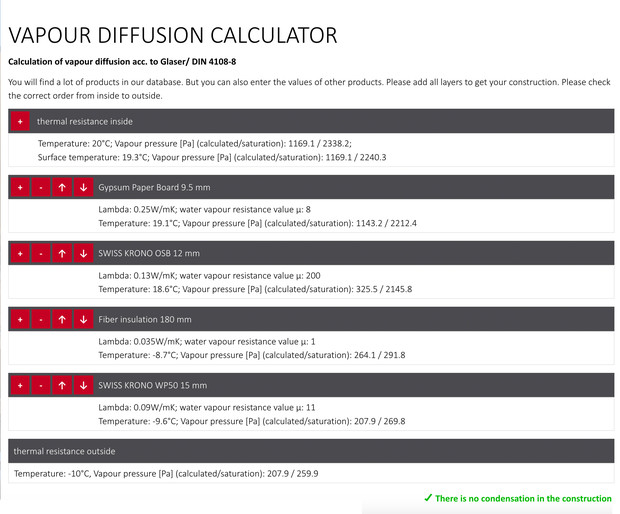 Screenshot of the condensation calculation for the SWISS KRONO exterior wall with F30 fire protection
The result is displayed in the bottom right-hand corner: green if there is no condensation formation, and red if condensation will be formed and improvements are required.

Click here to go to the SWISS KRONO condensation computation