SUBSIDIES FOR BUILDING AND RENOVATION PROJECTS IN GERMANY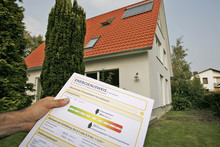 The legal situation is currently very favourable for home owners in Germany: you can take advantage of government programmes to achieve greater energy efficiency. From professional advice across subsidies to low-interest loans, a whole range of opportunities exist for helping you to reduce the costs of building or renovating to save energy.
We have investigated who offers subsidised consultancy and who distributes funding. The results of our research are listed below.
Important: Apply for Assistance Before Seeking Advice or Starting a Construction or Renovation Project!

If you own or are planning to build a house and would like to take advantage of subsidies or low-interest loans, it's absolutely essential for you to apply for this assistance before starting work or obtaining advice from a professional consultant. The required steps are summarised on the websites of KfW and BAFA. It's especially important for you to submit the required documents. These include photographs of the affected parts of an existing house as well as quotations and assessments from specialised firms for planned work. The subsidies aren't paid out until after the work is completed, at which time you must also submit detailed invoices from the contractor who carries out the project.

dena | Zukunft Haus

Berlin-based Deutsche Energie-Agentur GmbH (dena), which was established in 2000, is one of the most important sources of information on energy efficiency, renewable energy and intelligent energy systems for policymakers, companies and consumers. Its website at http://www.zukunft-haus.info/ is an excellent place to look for experts and find out where to apply for assistance (in German only).

KfW

Since its founding back in 1948, the German government-owned development bank KfW (Kreditanstalt für Wiederaufbau) has had the official mission of driving change and forward-looking ideas, also for renovating buildings for greater energy efficiency. KfW backs projects for complying with its KfW-Effizienzhaus standards as well as all individual measures that meet its minimum technical requirements, including insulation of exterior walls, roofs and cellar ceilings. Its website at https://www.kfw.de/kfw.de.html contains detailed information on subsidised loans (in German only).

BAFA

Before starting a renovation project, you should seek comprehensive advice. The Federal Office of Economics and Export Control (BAFA) offers extensive information and help for finding consultants (in German only) at http://www.bafa.de/DE/Energie/energie_node.html. At http://www.energieberatung-regional.de/energieberatung_allgemein.php (in German only) you can also find BAFA-approved architects and engineers. The provided subsidy for on-site consultancy amounts to 400 euros for detached, semi-detached and duplex houses and 500 euros for buildings containing three or more flats. The Guideline on Subsidisation of On-Site Energy Consultancy in Residential Buildings of October 29, 2014 (in German only) contains more information for house owners, builders and consultants.

IFB Hamburg

The Hamburgische Investitions- und Förderbank (IFB Hamburg) helps finance the construction of affordable new rental housing, mainly to support older and disabled people and those with low incomes. The available subsidies are modular in structure, and were extended at the start of 2017 to include building with wood. The IFB Hamburg now pays out 30 euro cents per kilogram of wood used to construct new low-rent units in multi-dwelling residential buildings. The same terms apply to projects to enlarge existing buildings by adding annexes, extensions and more storeys. The subsidy increases proportionally to the weight of the wood and wood-based materials used. Detailed information and the applicable guidelines can be viewed at www.ifbhh.de (in German only).

Regional Programmes

German states, districts, cities and communities also provide attractive assistance for renovating and building for greater energy efficiency. It can be applied for via regional banks and energy agencies. Some districts even offer subsidies amounting to several thousand euros. To find out what is available, search the internet for "Förderung von Energetischen sanierungsmassnahmen an Wohngebäuden" or "Förderung von Energieeffizienzmaßnahmen" or contact the responsible state-level or municipal department.
Useful Links:

http://www.zukunft-haus.info/
https://www.kfw.de/kfw.de.html
http://www.bafa.de/DE/Energie/energie_node.html
http://www.bafa.de/bafa/de/energie/energiesparberatung/vorschriften/vob_richtlinie_2012.pdf
http://www.energieberatung-regional.de/index.php
https://www.zukunftaltbau.de/
http://den-ev.de/index.html
http://www.co2-bank.de/die-co%E2%82%82-bank
http://www.ilb.de/de/wohnungsbau/darlehen_2/wohneigentum_in_innenstaedten_modernisierung_instandsetzung_mit_energetischer_sanierung/index.html#meldung-27393/
http://www.ifbhh.de