Raw SWISS KRONO MAGNUMBOARD® OSB members are made using SWISS KRONO OSB/3 boards between 15 and 18 metres long, 2.8 metres wide and 25mm thick. Predominantly wood from sustainable forestry is used to make SWISS KRONO OSB/4, along with a very small amount of entirely formaldehyde-free binder.

It's up to our licensees whether SWISS KRONO OSB/4 boards are cut first and then bonded together, or first bonded and then customised. The outcome is the same regardless of the procedure: a SWISS KRONO MAGNUMBOARD® OSB that has been precisely prefabricated using a CNC (computerised numerical control) system with all required cut-outs, holes and notches for windows, doors and electrical, sanitary and heating installations. The final dimensions are freely selectable, with thicknesses up to 25cm. The resulting large-format panels can be rapidly assembled into airtight structures that can be immediately coated or covered on the inside. The prefabrication greatly speeds assembly and reduces the need for finishing and work by follow-on trades.

As soon as the basic structure has been assembled on-site, interior finishing can commence. Wallpaper, tiles and other coverings and coatings can be directly applied to the panels. Thanks to the sanded, joint-free surfaces of the SWISS KRONO OSB/4 used to make the SWISS KRONO MAGNUMBOARD® OSB , there is no need to additionally install plasterboard.

Every SWISS KRONO MAGNUMBOARD® OSB member conforms to European technical approval ETA-13/0784.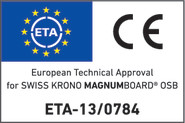 SWISS KRONO LONGBOARD OSB UND MAGNUMBOARD® OSB Brochure
28 Pages
Language English
Copyright SWISS KRONO GmbH
Download: (5.451 kB)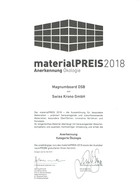 SWISS KRONO
MAGNUM
BOARD® OSB received an acknowledgment in the "Ecology" category at the 2018 German materialPREIS awards. This predicate is handed out to noteworthy new materials and development projects of manufacturers, architects and planners.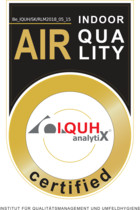 To see the standard-compliant test certificate for the air inside the Überwald Pavillon in Waldmichelbach, Germany, which was built with SWISS KRONO MAGNUMBOARD® OSB and the KNAUF Rotkalk plaster system at
www.swisskrono.de/Finishing