SWISS KRONO OSB/3 SF-B EN300 flameproof Stop Fire, square-edge,T + G – ContiFinish® - The classic product with built-in fire protection, Bonded without formaldehyde, CE, PEFCTM




SWISS KRONO OSB/3 SF-B is an enhancement of SWISS KRONO OSB/3, the well-known high-performance staple. Like it, the flame-retardant version is CE-certified under DIN EN 13986 and an ideal engineered wood product for loadbearing and reinforcing applications. The boards are completely impregnated with flame retardant to slow or prevent fires from starting, also after being worked and even at their corners and edges. This is a major advantage over other engineered wood products which merely have coated surfaces.
The benefits of OSB/3 SF-B:

When exposed to flame, it chars to forms a fire-inhibiting layer.
It reliably extinguishes without smouldering or continuously glowing.
As the strands used to make it are treated as well, the edges of boards are also flame-retardant.
It is as easy to saw, cut and otherwise work as standard OSB.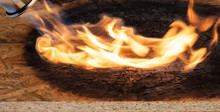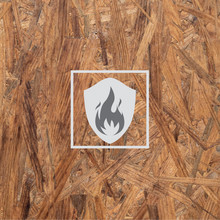 SWISS KRONO OSB/3 SF-B EN300 - Fire class B-s2, d0
OSB/3 SF-B can be used just like standard OSB, but when exposed to flame it chars to form a fire-inhibiting layer. There is no risk of smouldering, and edges are highly resistant to catching fire.
SWISS KRONO OSB/3 SF-B is mainly used in building construction for the substructures of exterior walls. Other applications include trade fair stands, halls, warehouses and similar structures.
Many large structures are used by large numbers of people, so the fire prevention requirements for them are especially demanding. Schools, nursing homes, clinics, government offices, factory and trade fair halls, and museums all require the use of building products with the ability to retard or resist flame.

SWISS KRONO OSB/3 SF-B not only meets the European fire protection requirements for public buildings, but also complies with the even stricter German standards. It has been assigned to reaction-to-fire performance class B-s2,d0 under EN 13501-1 (corresponding to B1), indicating that it fulfils the requirements for use in public buildings.



Strand direction


Major axis
Minor axis
Nominal board thicknesses [mm]
d
12 - 18
> 18 - 22
12 - 18
> 18 - 22
Strength values [N/mm²]
Stresses on board


Bending
fm,k
16.4
14.8
8.2
7.4
Compression
fc,90,k
10.0
10.0
Shear
fv,k
1.0
1.0
Plate loading


Bending
fm,k
9.4
9.0
7.0
6.8
Tensile force
ft,k
9.4
9.0
7.0
6.8
Compression
fc,k
15.4
14.8
12.7
12.4
Shear
fv,k
6.8
6.8
Stiffness values [N/mm²]
Stresses on board


Bending modulus of elasticity
Ema
4930
1980
Shear modulus
Gra
50
50
Plate loading


Modulus of elasticity
Et/ca
3800
3000
Shear modulus
Gva
1080
1080
a The characteristic stiffness values E05 and G05 are calculated as follows:
E05 = 0.85 x E and G05 = 0.85 x G
General and building physics values


Bulk density acc. to EN 323
m
700kg/m3
Max. deviations in board thickness
± 0.8mm (ContiFinish®)
± 0.3mm (sanded)
Tolerance in length and width
± 3mm
Perpendicularity acc. to EN 324‐2
2mm/m
Thermal conductivity acc. to EN 13986
λ
0.13W/mK
Water vapour resistance
sd
≥ 2.0m - dry (µ x d)
Waste code
EAK-Code
03 01 05
Thickness swelling acc. to EN 317
≤ 15%
Coefficient of expansion for 1% change in wood moisture content
0.03%
Emissions class
E1 – 100% Formaldehyde-free binders
(< 0.03ppm)
VOC-emission /
DIBt-Certificate: G-160-20-0005
Compliance with the Health Protection Requirements for Building Structures acc. with Annex 8 of the German Model Administrative Regulation on Technical Construction Requirements
Service classes acc. to EN V 1995-1-1
1 + 2
Reaction to fire acc. to EN 13501-1
B-s2, d0 - fire retardant
Burning / charring rate acc. to EN 1995-1-2
0.56mm/Min
Surface
crystalline efflorescence possible
Declaration of Performance No. acc. to CPR
SKDE_OSB-SF-B_CPR_2020_056
Note: The characteristic values are for structural calculations acc. to EN 1995-1-1 and EN 1995-1-2 (EC5)
Format [mm]

Thickness [mm]



12

15

18

22

2500 x 1250 square-edge

60

*

42

*
3000 x 1250 square-edge



*
42

*
2500 x 675 T + G on all 4 edges



*
42

36
2500 x 1250 T + G on all 4 edges



*
42
36
Special formats and thicknesses on request

Laying and Boarding




For interior or exterior boarding applications, leave expansion joints at least 3 mm wide between boards.
When laid closely with butt joints in interior walls, leave room for expansion where the boards adjoin other structures.
The storey-high formats are produced with a slightly reduced width (of 1247 mm) to allow for expansion.
Coating and Varnishing




SWISS KRONO OSB with a ContiFinish® surface may be coated with a solvent-containing PU (DD) or synthetic-resin varnish.
Sanded surfaces may be coated like normal wood (e.g. with varnishes, paints, oils, waxes and glazes).
It is advisable to apply at least three coats, sanding after the first one.
Application of at least three coats is recommended.
The only way to achieve an absolutely smooth surface is to apply filler.
Transport and Handling




Take steps to prevent the boards, and especially the unprotected edges, from absorbing large amounts of moisture during transport and installation. Be careful not to damage the edges when lifting, moving and stacking boards (this applies especially to tongue-and- groove boards).
Check against the labels or producer's documentation on-site to make sure that the following are correct: thickness, approved utilisation class, surface (sanded or ContiFinish®) and edge type (square-edged or tongue-and-groove).
During installation, boards may be briefly leaned against a solid structure at a 70° angle.
Always carry individual boards in an upright (vertical) position.
Storage




Protect boards from exposure to significant moisture or very high relative humidity.
Prevent direct contact of the boards with the floor. ■ Only store outdoors temporarily, and if unavoidable cover stacks with watertight but water-vapour-permeable tarpaulins.
Always stack boards horizontally on pallets and wooden supports (spaced no more than 600 mm apart).
Align wooden supports precisely with one another and parallel to the shorter side of the boards.
Lay the boards so their edges line up (with a maximum overhang of 15 mm).
Acclimatisation




Precondition boards prior to installation.
Store boards for about three days under the same climatic conditions that prevail at the installation site.
This adjustment to the ambient moisture at the installation site will prevent excessive shrinkage or swelling.

Sawing, Milling, Sanding and Drilling




SWISS KRONO OSB can be sanded, sawn, milled and drilled just like solid wood and using all of the same tools.

Nailing, Stapling, Screwing and Gluing




SWISS KRONO OSB can be attached to wooden studs and rafters using screws, nails or staples.
Use in accordance with the official approvals and standards (Z-9.1-618, Z-9.1-503 and DIN 1052 in Germany as well as EN 1995-1-1 (EC 5)).
Additionally bond or glue tongue-and-groove joints.
Downloadable documents
Category:
| Art. No. | Title |
| --- | --- |
| P01732 | SWISS KRONO LONGBOARD OSB und MAGNUMBOARD® OSB Quality management and Processing instructions - GB |
| P00450 | SWISS KRONO Delivery programme Flyer - English |
| P00086 | SWISS KRONO OSB Environmental product declaration (EPD) - English |
| P00241 | SWISS KRONO OSB Full-line catalogue Brochure - English |
| P00913 | SWISS KRONO OSB Installation Manual - Natural Stability - English |
| P00595 | SWISS KRONO OSB Material Safety Data Sheet - English |
| P00946 | SWISS KRONO Product Tolerances - English |
| P01459 | Sintef OSB/3 Certificate - English |
Product documents
| Art. No. | Title |
| --- | --- |
| P01493 | SKDE_OSB-SF-B_CPR_2020_056_EN |
| P01498 | SWISS KRONO OSB flamepoof Stop Fire (SF-B) data sheet - English |
| P01357 | SWISS KRONO OSB under Metal Roofing in Pitched Roofs - English |
| P01156 | SWISS KRONO OSB/3 dimensioning reference tables - English |
| P00548 | SWISS KRONO OSB/SF-B CE Cerfificate - English |