SWISS KRONO OSB/4 EN300 F****, LONGBOARD
Always in the Lead






Our premium-quality SWISS KRONO OSB/4 EN300 F**** in a long version with board lengths from 6.501 to 18 metres – the ideal wood-based material for large applications. With its ContiFinish® finish, this long board made with completely formaldehyde-free binder makes for healthy living, especially in eco-friendly timber-frame construction.
A Harmonised System

On the Services page, you can download a large number of system modules for building new houses and modernising and renovating existing ones with SWISS KRONO products. Click here to go straight to the download section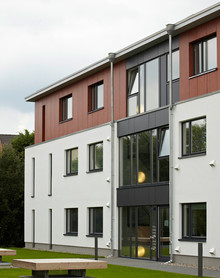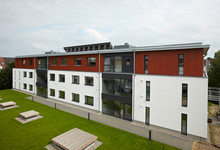 Greater Efficiency and Cost Savings
SWISS KRONO has a long tradition of developing innovative new products. One such innovation is the production of SWISS KRONO OSB/4 EN300 F**** Longboard with a length of 18 metres. In fact, the SWISS KRONO GROUP is probably the only company in the world able to produce 18-metre-long boards, having invested in a long-board stacking system at its Heiligengrabe, Germany plant.

Builders of prefabricated houses and commercial structures can take advantage of this SWISS KRONO OSB innovation to create large-size wall and roof elements. It also offers producers of prefabricated elements for timber-frame houses new opportunities to increase efficiency and economise. Plus, the new storey-high long boards with a height of 2.8 metres from the SWISS KRONO OSB product family make it possible for a single board to extend the entire length of a building, thus completely eliminating butt joints. This does away with the need to lay plasterboard over it.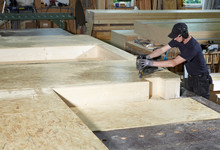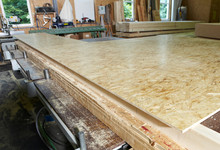 Applications
Commercial buildings and prefabricated houses



Strand direction


Major axis
Minor axis
Thickness range [mm]
d
10
>10
-
18
>18
-
25
10
>10
-
18
>18
-
25
Strength values [N/mm2]


Stresses on board


Bending
fm,k
24.5
23.0
21.0
13.0
12.2
11.4
Shear
fv,k
1.1
1.1
Plate loading


Bending
fm,k
11,9
11,4
10,9
8,5
8,2
8,0
Tensile force
ft,k
11,9
11,4
10,9
8,5
8,2
8,0
Compression
fc,k
18,1
17,6
17,0
14,3
14,0
13,7
Shear
fv,k
6,9
6,9
6,9
6,9
6,9
6,9
Stiffness values [N/mm2]


Stresses on board


Bending modulus of elasticity
Ema
6780
2680
Shear modulus
Gra
60
60
Plate loading


Tensile modulus of elasticity
Eta
4300
2680
Compression modulus of elasticity
Eca
4300
2680
Shear modulus
Gva
1090
1090
a The characteristic stiffness values E05 and G05 are calculated as follows:
E05 = 0.85 x Emean and G05 = 0.85 x Emean
General and building physics values


Bulk density acc. to EN 323
m
620 kg/m3
Max. deviations in board thickness
± 0.8 mm
Tolerance in length and width
± 3 mm
Perpendicularity acc. to EN 324‐2
2 mm/m
Embedment strength
perm. σI
5.0
4.0
Thermal conductivity acc. to EN 13986
λ
0.13 W/mK
Water vapour resistance
sd
≥ 2.0m (from 12 to 30mm) - dry (μ x d)
Air tightness acc. to EN 12114 at 50 Pa
sd
0.12[m|/m2h]
Thickness swelling acc. to EN 317
≤ 12%
Coefficient of expansion for 1% change in wood moisture content
0.015s%
Waste Code
03 01 05
Emissions class
E1 – 100% formaldehyde-free binders
(< 0.03 ppm)
VOC-emission / DIBt-Certificate: G-160-18-0001
Compliance with the Health Protection Requirements for Building Structures in acc. with Annex 8 of the German Model Administrative Regulation on Technical Construction Requirements (MVVTB 2017/1)
Environmental Product Declaration as per ISO 14025 and EN 15084
EPD-KRO-20150067-IBD2-EN
Service classes acc. to EN 1995-1-1
1 + 2
Reaction to fire acc. to EN 13501-1
D-s2, d0
Declaration of Performance No. acc. to CPR
SKDE_OSB4_F4S_CPR_2020_052
Format [mm]
Thickness [mm]


9
10
12
15
18
22
25
30
40
6501 mm to 18000 mm






**
**
**
**




** Minimum Order Quantity one truckload per thickness and format

Special formats and thicknesses on request
Laying and Boarding




When laid closely with butt joints in interior walls, leave room for expansion where the boards adjoin other structures.
Coating and Varnishing




SWISS KRONO OSB with a ContiFinish® surface may be coated with a solvent-containing PU (DD) or synthetic-resin varnish.
Sanded surfaces may be coated like normal wood (e.g. with varnishes, paints, oils, waxes and glazes).
It is advisable to apply at least three coats, sanding after the first one.
Application of at least three coats is recommended.
The only way to achieve an absolutely smooth surface is to apply filler.
Important Note on Coating and Painting!
When coating SWISS KRONO OSB with oil or hard wax oil, under some circumstances ingredients in the oil may interact with the natural wood resin in the SWISS KRONO OSB. This can result in an intense, lasting odour in the room. We therefore recommend that you contact the manufacturer of the oil or hard wax oil before using it.

Transport and Handling




Take steps to prevent the boards, and especially the unprotected edges, from absorbing large amounts of moisture during transport and installation. Be careful not to damage the edges when lifting, moving and stacking boards (this applies especially to tongue-and- groove boards).
Check against the labels or producer's documentation on-site to make sure that the following are correct: thickness, approved utilisation class, surface (sanded or ContiFinish®) and edge type (square-edged or tongue-and-groove).
During installation, boards may be briefly leaned against a solid structure at a 70° angle.
Always carry individual boards in an upright (vertical) position.
Storage




Protect boards from exposure to significant moisture or very high relative humidity.
Prevent direct contact of the boards with the floor. Only store outdoors temporarily, and if unavoidable cover stacks with watertight but water-vapour-permeable tarpaulins.
Always stack boards horizontally on pallets and wooden supports (spaced no more than 600 mm apart).
Align wooden supports precisely with one another and parallel to the shorter side of the boards.
Lay the boards so their edges line up (with a maximum overhang of 15 mm).
Acclimatisation




Precondition boards prior to installation.
Store boards for about three days under the same climatic conditions that prevail at the installation site.
This adjustment to the ambient moisture at the installation site will prevent excessive shrinkage or swelling.

Sawing, Milling, Sanding and Drilling




SWISS KRONO OSB can be sanded, sawn, milled and drilled just like solid wood and using all of the same tools.

Nailing, Stapling, Screwing and Gluing




SWISS KRONO OSB can be attached to wooden studs and rafters using screws, nails or staples.
Use in accordance with the official approvals and standards (Z-9.1-618, Z-9.1-503 and DIN 1052 in Germany as well as EN 1995-1-1 (EC 5)).
Additionally bond or glue tongue-and-groove joints.
Downloadable documents
Category:
| Art. No. | Title |
| --- | --- |
| P00450 | SWISS KRONO Delivery programme Flyer - English |
| P00086 | SWISS KRONO OSB Environmental product declaration (EPD) - English |
| P00241 | SWISS KRONO OSB Full-line catalogue Brochure - English |
| P00913 | SWISS KRONO OSB Installation Manual - Natural Stability - English |
| P00595 | SWISS KRONO OSB Material Safety Data Sheet - English |
| P00946 | SWISS KRONO Product Tolerances - English |
| P01459 | Sintef OSB/3 Certificate - English |
Product documents
| Art. No. | Title |
| --- | --- |
| K01036 | Base Details - English |
| K01035 | Base Details - English |
| P00939 | KRONOPLY OSB/F**** Formaldehyde release acc. to DIN EN 717-1 - English |
| K00316 | PEFCTM Chain-of-Custody Certificate - English |
| P01502 | SKDE_OSB-4_F4S_CPR_2020_052_EN |
| P01189 | SWISS KRONO LONGBOARD OSB and MAGNUMBOARD® OSB Brochure - GB |
| K01045 | SWISS KRONO Exterior Wall with Sheet-Metal Cladding, e.g. for Dormer Cheeks - English |
| K01359 | SWISS KRONO Exterior Walls, OSB Inside and Outside - English |
| K01353 | SWISS KRONO Installation in Walls - English |
| K01047 | SWISS KRONO Interior Fire Wall - English |
| K01354 | SWISS KRONO Layers of SWISS KRONO OSB - English |
| K01331 | SWISS KRONO Laying Instructions for Walls - English |
| P00087 | SWISS KRONO OSB F**** CE certificate - English |
| K01360 | SWISS KRONO OSB in Exterior Walls - English |
| P00417 | SWISS KRONO OSB/4 EN300 F**** Data Sheet - English |
| P01155 | SWISS KRONO OSB/4 EN300 F**** dimensioning reference tables - English |