SWISS KRONO anti-termite, T + G
Termite-Resistant, High-Quality OSB





Profiled on all four edges for tongue-and-groove joints, this version of SWISS KRONO anti-termite has outstanding technical attributes. Being completely impregnated with a lastingly effective insecticide, the OSB boards are optimally safeguarded from termite damage.
A Harmonised System

On the Services page, you can download a large number of system modules for building new houses and modernising and renovating existing ones with SWISS KRONO products. Click here to go straight to the download section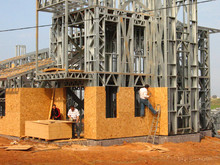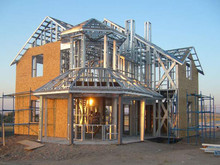 Proactive Protection Against Termites
To make SWISS KRONO anti-termite T + G suitable for the special conditions of termite-infested regions, pesticides are added to the liquid mixture during production. This results in a dedicated OSB version that is especially well-suited for export to and use in regions where termites are endemic, such as southern France, Australia, Africa and the United States. Termites love to devour wood and wood-based materials – in the United States alone, they cause billions of dollars' worth of damage to houses every year, more than fire, storms and earthquakes together. The Global Environment Facility (GEF) estimates that termites annually inflict damage to buildings amounting to between 15 and 20 billion U.S. dollars worldwide.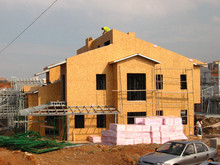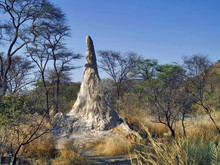 During production of SWISS KRONO anti-termite T + G, the binder is mixed with an insecticide. This proactive approach makes the OSB highly resistant to termite attack. Test results have confirmed this: even after several weeks of contact with termites, SWISS KRONO anti-termite T + G exhibited no measurable signs of termite feeding, while conventional OSB boards were severely damaged.
Applications

Termite-resistant OSB with all four edges made for tongue-and-groove joints

For export to affected regions

Completely insecticide-impregnated for lastingly effective termite resistance




Strand direction


Major axis
Minor axis
Nominal board thicknesses [mm]
d
6
to
10
>10
to
18
>18
to
25
6
to
10
>10
to
18
>18
to
25
Strength values [N/mm²]
Stresses on board


Bending
fm,k
18.0
16.4
14.8
9.0
8.2
7.4
Compression
fc,90,k
10.0
10.0
Shear
fv,k
1.0
1.0
Plate loading


Bending
fm,k
9.9
9.4
9.0
7.2
7.0
6.8
Tensile force
ft,k
9.9
9.4
9.0
7.2
7.0
6.8
Compression
fc,k
15.9
15.4
14.8
12.9
12.7
12.4
Shear
fv,k
6.8
6.8
Stiffness values [N/mm²]
Stresses on board


Bending modules of elasticity
Emeana
4930
1980
Shear modulus
Gmeana
50
50
Plate loading


Modulus of elasticity
Emeana
3800
3000
Shear modulus
Gmeana
1080
1080
a The characteristic stiffness values E05 and G05 are calculated as follows:
E05 = 0.85 x Emean and G05 = 0.85 x Emean
General and building physics values


Bulk density acc. to EN 323
m
600 kg/m³
Max. deviations in board thickness
± 0.8 mm (ContiFinish®) | ± 0.3 mm (sanded)
Thermal conductivity acc. to EN 13986
λ
0.13 W/mK
Thickness swelling acc. to EN 317
≤ 15%
Expansion coefficient for 1% change in wood moisture
0.03%
Waste Code
EWC code
03 01 05
Emissions class
E1 – 100% formaldehyde-free binders
(< 0.03 ppm)
Utilisation class acc. to EN V 1995-1-1
1 + 2
Reaction to fire performance class acc. to EN 13501-1
D - s2, d0
CE certificate no.
501-12-2494 - GB
Acc. to customer specifications

Special formats and thicknesses on request

Laying and Boarding




For interior or exterior boarding applications, leave expansion joints at least 3 mm wide between boards.
When laid closely with butt joints in interior walls, leave room for expansion where the boards adjoin other structures.
The storey-high formats are produced with a slightly reduced width (of 1247 mm) to allow for expansion.
Coating and Varnishing




SWISS KRONO OSB with a ContiFinish® surface may be coated with a solvent-containing PU (DD) or synthetic-resin varnish.
Sanded surfaces may be coated like normal wood (e.g. with varnishes, paints, oils, waxes and glazes).
It is advisable to apply at least three coats, sanding after the first one.
Application of at least three coats is recommended.
The only way to achieve an absolutely smooth surface is to apply filler.
Transport and Handling




Take steps to prevent the boards, and especially the unprotected edges, from absorbing large amounts of moisture during transport and installation. Be careful not to damage the edges when lifting, moving and stacking boards (this applies especially to tongue-and- groove boards).
Check against the labels or producer's documentation on-site to make sure that the following are correct: thickness, approved utilisation class, surface (sanded or ContiFinish®) and edge type (square-edged or tongue-and-groove).
During installation, boards may be briefly leaned against a solid structure at a 70° angle.
Always carry individual boards in an upright (vertical) position.
Storage




Protect boards from exposure to significant moisture or very high relative humidity.
Prevent direct contact of the boards with the floor. Only store outdoors temporarily, and if unavoidable cover stacks with watertight but water-vapour-permeable tarpaulins.
Always stack boards horizontally on pallets and wooden supports (spaced no more than 600 mm apart).
Align wooden supports precisely with one another and parallel to the shorter side of the boards.
Lay the boards so their edges line up (with a maximum overhang of 15 mm).
Acclimatisation




Precondition boards prior to installation.
Store boards for about three days under the same climatic conditions that prevail at the installation site.
This adjustment to the ambient moisture at the installation site will prevent excessive shrinkage or swelling.

Sawing, Milling, Sanding and Drilling




SWISS KRONO OSB can be sanded, sawn, milled and drilled just like solid wood and using all of the same tools.

Nailing, Stapling, Screwing and Gluing




SWISS KRONO OSB can be attached to wooden studs and rafters using screws, nails or staples.
Use in accordance with the official approvals and standards (Z-9.1-618, Z-9.1-503 and DIN 1052 in Germany as well as EN 1995-1-1 (EC 5)).
Additionally bond or glue tongue-and-groove joints.
Documentos para descargar
Sección:
Producto documentos
No se ha encontrado ningún resultado bajo %1. Seleccione otra sección y / u otro idioma, por favor.

Encuentra las secciones seleccionadas que no se corresponden con la selección de idioma alemán, inglés, francés, ruso, español bajo la selección "Otros".

Seleccionando "Vista general" obtiene una panorámica general rápida sobre todos los idiomas y versiones disponibles en una sección.