SWISS KRONO flex
flexible infill insulation






SWISS KRONO flex is specially designed for use as infill insulation in ceilings, roofs and both exterior and interior walls. Available in thicknesses from 40 to 240 mm, it excels above all due to the ease with which it can wedged in place and the fact that it stays as installed without being attached. SWISS KRONO flex reduces energy costs and enhances wellbeing.
A Harmonised System

On the Services page, you can download a large number of system modules for building new houses and modernising and renovating existing ones with SWISS KRONO products. Click here to go straight to the download section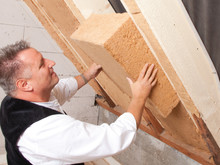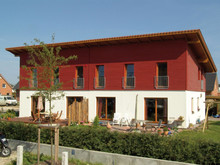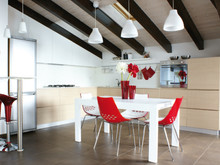 Saves energy and is easy to use
SWISS KRONO flex, the professional feel-good insulation from our SWISS KRONO system programme which keeps buildings pleasantly cool in the summer and keeps agreeable warmth inside in the winter. In both new and renovated buildings, SWISS KRONO flex lets you achieve an optimal indoor feel-good climate. During installation, this natural insulating material already makes a convincing impression because it is pleasant to the touch and is inherently very stiff, allowing it to be reliably installed in very wide sections simply by wedging it into place.

SWISS KRONO flex is a proven, flexible, highly insulating and water-vapour-permeable fibreboard insulating material that reliably keeps out heat, cold and noise. SWISS KRONO flex excels not only because of its outstanding insulating properties, but also because of its environmental benefits and the fact that it forms part of an integrated system.
SWISS KRONO flex has been awarded the natureplus® quality mark by the International Association for Future-Oriented Building and Accommodation - natureplus e.V. natureplus® is a major label for sustainable living and accommodation products that have been tested for health, environmental friendliness and functionality. It helps architects, users, merchants, and ultimately builder-owners choose environmentally sound, healthy products.


Special characteristics

Flexible, highly insulating, water-vapour-permeable, fibreboard insulating material
Extremely wide sections can be installed unattached, simply by pressing them into the space.
Very high heat storage capacity for excellent protection from summer heat
Sections only need to be cut slightly larger to remain securely in place when wedged into a space.
Tear-proof, dimensionally stable and non-settling
Superb indoor climate, thanks to moisture-regulating properties and a high sorption capacity
Excellent noise absorption
Recyclable
Pleasant to the touch and skin-friendly
Made from forest thinnings to ensure sustainability and environmental friendliness
Easy to handle and use
Approved by the building authorities and monitored by a neutral organisation
You can experience the full range of applications of our SWISS KRONO feel-good programme and our other KRONO system modules in our interactive KRONO Feel-Good House.

System for exterior walls
SWISS KRONO exterior wall system with F30 fire rating: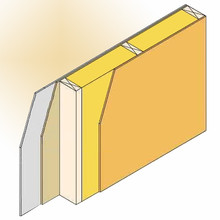 Components from the inside out:

9.5 mm of plasterboard
12 mm of SWISS KRONO OSB/F****, square-edge
200 mm of SWISS KRONO flex / KVH solid construction timber (as little as 160 mm is possible)
15 mm of Kronotec WP or DP50

U-factor: 0.21 W/m²K
Phase shift: 11 hours
Amplitude attenuation: 94%

Alternatively, there can be 12.5 mm of plasterboard on the inside and a 60-mm-thick installation layer, insulated with SWISS KRONO flex.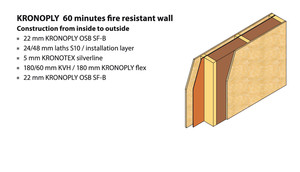 Properties
| | |
| --- | --- |
| | Very good protection against summer heat |
| | Optimal protection from cold in winter |
| | Excellent noise absorption |
| | Pleasant to touch and skin-friendly (no gloves needed for processing) |

Storage

| | |
| --- | --- |
| | Store in a dry location and do not use if moist. |
| | Do not stack pallets. |

Processing

| | |
| --- | --- |
| | During and after the installation of SWISS KRONO flex the construction has to be free of high moisture. The moisture content of rafters or studs has to be lower than 18 %. |
| | To ensure that the insulation stays securely wedged in place, cut it to be at least 1% longer than the length of the cavity between studs or rafters. |
| | Parts that will be exposed on the outside must be airtight on the inside. |
Produced and monitored in accordance with EN 13171 and German approval Z-23.15-1581

Characteristics

Test standard

Description/value

Designation
DIN EN 13171
WF - EN 13171 - T3 - AFr5
Thermal conductivity λD
DIN EN 13171
0.038 W/m*K
Thermal transmittance coefficient λ
DIN V 4108-4
0.039 W/m*K
Reaction to fire
DIN EN 13501-1
E
Bulk density
EN 1602
ca. 55 kg/m³
Water vapour diffusion factor μ

EN 12667
≤ 2
Specific thermal storage capacity
DIN EN ISO 10456
2100 J/kg*K
Composition


Wood fibre,
binding fibres,
ammonia phosophate
Waste key
EAK-code
03 01 05
Environmental product declaration
ISO 14025
EPD-KRO-20140033-IBA4-DE
Declaration of Performance
KDE_KFLEX_CPR_2015_017
Applications according to DIN 4108-10
Roofs
DAD
Exterior insulation of roofs and ceilings, protected against weathering, insulation behind cladding,
dk - not Compression-resistant
DI
Interior insulation of roofs and ceilings,
zk - no tensile strength requirements
DZ
Interior insulation of roofs and ceilings,
zk - Insulation between rafters, double-skin roofs, non-walkable but accessible attic floors
Walls
WH
Insulation of half-timbered and wood-frame buildings
WI
Insulation of partition walls
WTR
Interior insulation of exterior walls,
zk – no tensile strength requirements
Size: 1350 x 575 mm

Thickness
[mm]
Pieces per
pack
Packs per
pallet
Area per
pack [m²]
Area per
pallet [m²]
Thermal resistance
acc. EN R [m2K/W]

40
8
14
6.21
86.94
1.053
50
9
10
6.99
69.86
1.316

60
6
12
4.66
55.89
1.579

80
4
14
3.11
43.47
2.105

100
3
14
2.33
32.60
2.632

120
3
12
2.33
27.95
3.158

140
2
16
1.55
24.84
3.684

160
2
14
1.55
21.74
4.211

180
2
12
1.55
18.63
4.737

200
2
10
1.55
15.53
5.263

220
2
10
1.55
15.53
5.789

240
2
8
1.55
12.42
6.316

Special formats and thicknesses on request
Cut sections slightly wider than the spaces they will be installed in, adding at least 1% of the clear width between studs, joists or rafters.
Also add at least 1% in the longitudinal direction.
Lay on top of rafters on a dry, load-distributing substrate.
Parts that will be exposed on the outside must be airtight on the inside.
After laying, immediately cover on the underside with a water-carrying plastic sheet or board.

Insulation knife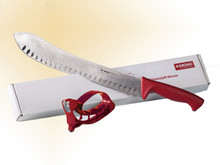 For fast, efficient cutting of sections and smaller pieces at the building site, we recommend using the SWISS KRONO insulation knife. Its blade was specially developed for cutting SWISS KRONO flex, and only slight pressure needs to be exerted to easily cut smooth, neat edges.The SWISS KRONO insulation knife is made of high-quality stainless steel from Solingen, Germany.
Professional Cutting Rig with the Alligator DWE 397 Universal Saw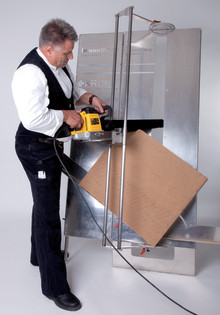 This angle-adjustable professional cutting rig integrating the Alligator DW 391 universal saw was developed to enable fast, simple and precise work.

The cutting rig and universal saw are available separately.

Documents à télécharger
Rubrique:
Documents produits
| Référence | Titre |
| --- | --- |
| K01109 | Paroi de protection incendie F60 SWISS KRONO - FR |
| K01064 | Paroi extérieure SWISS KRONO avec bardage en tôles, par ex. pour pans de lucarne - FR |
| K01066 | Paroi extérieure SWISS KRONO avec protection coupe-feu F30 - FR |
| P00559 | SWISS KRONO flex certificate natureplus - German + English + French |