SWISS KRONO OSB/4 EN300 MAGNUMBOARD®, sanded
CE, monitored by HFB ENGINEERING GMBH, PEFCTM, MAGNUMBOARD® raw Plate






The material used to make SWISS KRONO OSB/4 MAGNUMBOARD® OSB is SWISS KRONO OSB/4 sanded. This certified, food-safe wood-based material is characterised by minimal swelling and shrinkage when exposed to moisture. It is produced using only thinnings from managed German forests. Completely formaldehyde-free binders are used to achieve highly stable bonding of the raw materials. The solid SWISS KRONOOSB/4 MAGNUMBOARD® OSB, sanded building system consists of 25-mm-thick SWISS KRONO OSB/4 boards glued together.
A Harmonised System

On the Services page, you can download a large number of system modules for building new houses and modernising and renovating existing ones with SWISS KRONO products. Click here to go straight to the download section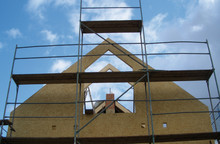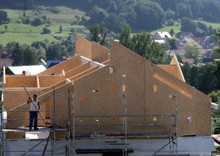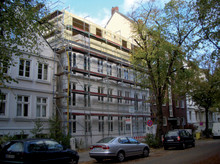 Dimensionally Stable and Certified
SWISS KRONO MAGNUMBOARD® OSB, like SWISS KRONO OSB/4, is extremely dimensionally stable, structurally very strong, and excellently suited for thermal and acoustic insulation and fire protection. Planned apertures for stairways, windows and doors, electrical conduits and sanitary and heating installations are cut out and precisely milled to the required sizes and shapes prior to gluing. The boards are pressed to thicknesses from 75 to 250 mm with between three and ten plies.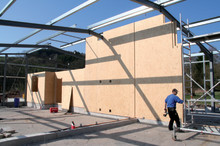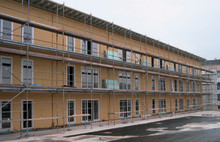 The final sizes are freely selectable. Every element of the SWISS KRONO MAGNUMBOARD® OSB wood building system conforms to European technical approval ETA-13/0784.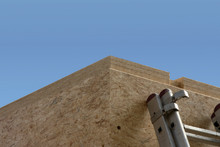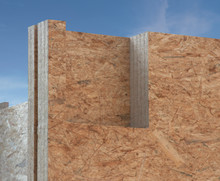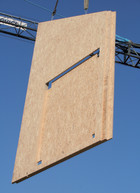 Production of Large Wall and Roof Elements
SWISS KRONO OSB/4 is produced as long boards measuring up to 18 x 2.8 metres, with a thickness of 25 mm and sanded surfaces. This innovative SWISS KRONO OSB product is optimally suited for making large wall and roof elements for prefabricated and built houses. It offers producers of prefabricated components for timber-frame houses many opportunities to work more efficiently and economise. Storey-high long boards of the SWISS KRONO OSB product family can cover the entire length of buildings, yielding airtight constructions that are free of butt joints. Externally applied thermal insulation prevents thermal bridges and maximises the associated energy savings.






Strand direction


Major axis
Minor axis
Thickness range [mm]
d
10
-
18
>18
-
<25
25
-
30
10
-
18
>18
-
<25
25
-
30
Strengh values [N/mm²]


Stresses on board


Bending
fm,k
28,0
23,0
27,5
14,0
12,5
19,0
Shear
fv,k
1,5
1,5
Plate loading



Bending
fm,k
19,5
17,0
10,9*
13,5
12,5
8,0*
modulus of elasticity
ft,k
12,0
10,5
11,5
8,0
7,5
11,0
Compression
fc,k
14,0
12,5
14,5
11,0
10,5
14,5
Shear
fv,k
8,0
7,0
7,0
8,0
7,0
7,0
Stiffness values [N/mm²]



Stresses on board



Bending modulus of elasticity
Ema
6500
7500
3000
3500
Shear modulus
Gra
100
70
100
90
Plate loading



Bending modulus of elasticity
Eta
3500
2500
3000
Compression modulus of elasticity
Eca
3500
2500
Shear modulus
Gva
1000
1100
1000
1100
aThe characteristic stiffness values E05 and G05 are calculated as follows: E05 = 0,9 x E and G05 = 0,9 x G
*This value is not covered for thicknesses > 25 mm
Genereal and building physics values



Bulk density acc. to EN 323
m
≥ 620 kg/m³
Max. deviations in board thickness
**sanded
mm
± 0,4 mm
± 0,8 mm
± 0,3 mm**
± 0,4 mm**
± 0,8 mm
± 0,3 mm**
Tolerance in length and width
± 3 mm
Perpendicularity acc. to EN 324-2
2 mm/m
Thermal conductivity acc. to DIN EN 13986
λ
0,13 W/mK
Water vapour resistance
sd
≥ 2,0 m (from 12 to 30 mm) - dry (μ x d)
Air tickness acc. to EN 12114 at 50 Pa
0,12 [m³/hm²]
Thickness swelling acc. to EN 317
≤ 9 %
≤ 8 %
≤ 9 %
≤ 8 %
Coefficient of expansion for 1% change in wood moisture content
0,015 %
Waste code
03 01 05
Emissions class
E1 – 100% Formaldehyde-free binders (< 0,03 ppm)
VOC-emission / DIBt-Certificate: G-160-18-0001
Compliance with the Health Protection Requirements for Building Structures in acc. with Annex 8 of the German Model Administrative Regulation on Technical Construction Requirements (MVVTB 2017/1)
EPD as per ISO 14025 and EN 15804
EPD-KRO-20150067-IBD2-EN
Service classes acc. to EN 1995-1-1
1 + 2
Reaction to fire acc. to EN 13501-1
D-s2, d0
Declaration of Performance No. acc. CPRs
SKDE_OSB-4_CPR_2020_055
| Format [mm] | Thickness [mm] |
| --- | --- |
| | 25 |
| 15000 x 2800 | 30 per truck |
| 18000 x 2800 | 25 per truck |
Special formats and thicknesses on request
Interior Coating – Everything Is Possible
SWISS KRONO MAGNUMBOARD® OSB elements have a sanded surface that can be directly painted, papered, smoothed with levelling compound, plastered or finished with a veneer, laminate, etc. Depending on the stresses they will be subjected to, it is also possible – but not essential – to cover them with plasterboard.

Laying and Boarding




For interior or exterior boarding applications, leave expansion joints at least 3 mm wide between boards.
When laid closely with butt joints in interior walls, leave room for expansion where the boards adjoin other structures.
The storey-high formats are produced with a slightly reduced width (of 1247 mm) to allow for expansion.
Coating and Varnishing




SWISS KRONO OSB with a ContiFinish® surface may be coated with a solvent-containing PU (DD) or synthetic-resin varnish.
Sanded surfaces may be coated like normal wood (e.g. with varnishes, paints, oils, waxes and glazes).
It is advisable to apply at least three coats, sanding after the first one.
Application of at least three coats is recommended.
The only way to achieve an absolutely smooth surface is to apply filler.
Important Note on Coating and Painting!
When coating SWISS KRONO OSB with oil or hard wax oil, under some circumstances ingredients in the oil may interact with the natural wood resin in the SWISS KRONO OSB. This can result in an intense, lasting odour in the room. We therefore recommend that you contact the manufacturer of the oil or hard wax oil before using it.

Transport and Handling




Take steps to prevent the boards, and especially the unprotected edges, from absorbing large amounts of moisture during transport and installation. Be careful not to damage the edges when lifting, moving and stacking boards (this applies especially to tongue-and- groove boards).
Check against the labels or producer's documentation on-site to make sure that the following are correct: thickness, approved utilisation class, surface (sanded or ContiFinish®) and edge type (square-edged or tongue-and-groove).
During installation, boards may be briefly leaned against a solid structure at a 70° angle.
Always carry individual boards in an upright (vertical) position.
Storage




Protect boards from exposure to significant moisture or very high relative humidity.
Prevent direct contact of the boards with the floor. Only store outdoors temporarily, and if unavoidable cover stacks with watertight but water-vapour-permeable tarpaulins.
Always stack boards horizontally on pallets and wooden supports (spaced no more than 600 mm apart).
Align wooden supports precisely with one another and parallel to the shorter side of the boards.
Lay the boards so their edges line up (with a maximum overhang of 15 mm).
Acclimatisation




Precondition boards prior to installation.
Store boards for about three days under the same climatic conditions that prevail at the installation site.
This adjustment to the ambient moisture at the installation site will prevent excessive shrinkage or swelling.

Sawing, Milling, Sanding and Drilling




SWISS KRONO OSB can be sanded, sawn, milled and drilled just like solid wood and using all of the same tools.

Nailing, Stapling, Screwing and Gluing




SWISS KRONO OSB can be attached to wooden studs and rafters using screws, nails or staples.
Use in accordance with the official approvals and standards (Z-9.1-618, Z-9.1-503 and DIN 1052 in Germany as well as EN 1995-1-1 (EC 5)).
Additionally bond or glue tongue-and-groove joints.
Documents à télécharger
Rubrique:
Documents produits
| Numéro d'article | Titre |
| --- | --- |
| P01391 | SWISS KRONO LONGBOARD OSB et MAGNUMBOARD® OSB - FR |