SWISS KRONO WP50, square-edge
Multifunctional MDF Boards for Building Applications
made with formaldehyde-free binders






Multifunctional MDF Boards for Building Applications

SWISS KRONO DP50 and SWISS KRONO WP50 are water-vapour-permeable MDF (medium-density fibreboard) panels for use under roofs (DP50) and on the outside of walls in timber frame construction (WP50), respectively.

It used to be necessary to lay a water-vapour-permeable film or prefabricated bituminous surfacing on boards to make them raintight. Now, however, these SWISS KRONO roof and wall panels integrate all functions. This results in considerable savings in time, materials and costs. For example, the panels can be laid much faster than individual boards.

Both products have been approved by the building authorities. Their technical values and composition are identical. SWISS KRONO DP50 and WP50 differ only in terms of their size and edge type:

SWISS KRONO DP50 roof panels: LiquiSafe tongue-and-groove, 2500 x 675 x 15 mm
SWISS KRONO WP50 wall panels: straight-edged, 2800 x 1247 x 15 mm
SWISS KRONO DP50 can be safely tread upon when dry with rafters spaced up to 100 cm apart. DP50 roof panels reliably drain water into the gutter. The user-friendly LiquiSafe tongue-and-groove system resists penetration by flowing water at roof pitches of 16° and steeper, thus also immediately protecting the building carcass as soon as the panels are laid.

SWISS KRONO WP50 is available in a storey-high format, which keeps trimming waste to a minimum. WP50 may be used for the purpose of stiffening walls. For prefabricated houses, it is possible to attach panels on the outside only. The rest of the work can then be done from the inside instead of from the outside on scaffolding.
A Harmonised System

On the Services page, you can download a large number of system modules for building new houses and modernising and renovating existing ones with SWISS KRONO products. Click here to go straight to the download section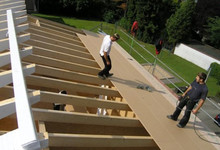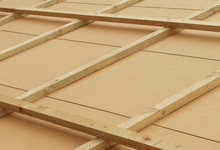 LiquiSafe Protects the Building Frame
At roof pitches of just 15° or more, the application-friendly LiquiSafe tongue-and-groove system is watertight, thus protecting the building frame. This eliminates the need for additional boarding and a water- vapour-permeable membrane or multiple plies of bitumen to keep out rainwater. SWISS KRONO DP50 performs all of these functions and is also faster to lay than individual boards. When dry, the boards are puncture-resistant up to a rafter spacing of one metre.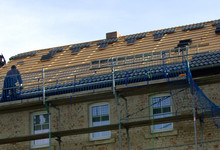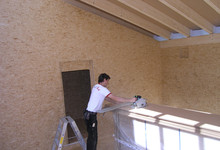 Applications
Underroof panelling (class UDP-A as defined by the German Roofing Association)
Outer boarding for walls of timber-frame houses
SWISS KRONO DP50 has been approved by the state Deutsches Institut für Bautechnik in Berlin for stiffening applications.

SWISS KRONO WP50 is an MDF-panel that is open to vapour diffusion for use as external panelling of walls in wood post and lintel construction. Contrary to an SWISS KRONO OSB-panel that is vapour diffusion resistant, the WP50 guarantees construction security, as possible humidity that could get into the wall construction is diffused outwards without any problem.

SWISS KRONO WP50 is building inspection approved and therefore is approved for use for reinforcing the wall construction. Tests show that where a façade is ventilated at the rear no film need be applied to the wall panel.

Excerpt from characteristic values acc. to German approval Z-9.1-442
Nominal board thicknesses [mm]
d
15
Strength values [N/mm²]
Plate loading


Bending
fm,k
17.0
Tensile force
fv,k
0.8
Stiffness values [N/mm²]
Stresses on board


Bending
Em,meana
2700
Shear
Gmeana
50
aThe characteristic stiffness values E05 and G05 are calculated as follows:
E05 = 0.9 x Emean and G05 = 0.9 x Emean
General and physical values
Bulk density acc. to EN 323
m
510 - 550 kg/m³
Max. deviation in board thickness
± 0.5 mm
Embedment strength
fh,k
18.0 N/mm²
Thermal conductivity
λ
0.09 W/mK
Water vapour permeability value
μ
11
Emissions class
E1 – 100% formaldehyde-free binders
Service classes acc. to EN 1995-1-1
1 + 2
Resistance to fire class acc. to DIN 4102

B2 - normal inflammable
Environmental Product Declaration as per ISO 14025
EPD-KRO-20170201-IBC1-DE
Declaration of Performance No. acc. to CPR
KPL_WPDP50_CPR_001
Applicable German technical approval
Z-9.1-442
Modification factor kmod and deformation factor kdef have to be used the values for the panel type "Fibre boards MBH.LA2 DIN EN 622-3:2004-07" acc. to DIN 1052:2008-12, tables F.1 and F.2.
Modulus of displacement Kser has to be calculated acc. to table G.1 of DIN 1052:2008-12, line 4 and 5.
By the way the density of ρk = 510 kg/m³ for KRONOTEC WP50/DP50 has to be used.
Thickness
[mm]
Format
[mm]
Pieces per
pallet
Area per
pallet [m²]
15

2800 x 1247
60

209.5
Special formats and thicknesses on request
Transport and Storage



Protect the edges to prevent damage.
Cover to protect the panels from excess moisture and the elements.
Cover when storing at construction sites.
To prevent damp from the ground from penetrating panels, place them on top of wooden supports.

Before installing panels, remove the plastic wrapping and acclimate them at the installation site for about three days.
Make sure that panels are dry when installed, unless they will be able to immediately re-release any absorbed moisture. Panels that have become wet dry out again without this affecting their strength in any way.
Use
SWISS KRONO DP50:

Suitable for class UDP-A roofing according to the guidelines of the German Roofers' Association (ZVDH).
Roof pitches: up to 8° less than the minimum slope of the roof covering, but in no case less than 16°.
Safe from puncturing up to a rafter spacing of 1000 mm.

Weathering: panels may be exposed to the elements for up to 4 weeks. Moist panels are not safe from puncturing.


Attachment: Use staples, screws or nails.
Sealing: Use only butyl rubber tape; no priming is required.
No priming necessary.

Interior use: To prevent condensation, complete the construction right after installing the roof panels.
Any moisture in the panels must be able to escape by venting.
Execute the required airtight building shell with care.
"Cold roofs": with uninsulated constructions, ensure adequate ventilation of the area beneath the roof.
SWISS KRONO WP50

Leave an expansion joint 3 mm wide between adjacent panels.
Joints must be sealed.
It is not necessary to tape over joints to create a windtight surface.
Weathering: panels may be exposed to the elements for at least 4 weeks, possibly longer if they are under a roof overhang.
If a composite thermal insulation system is taped on top, the substrate should be dry and free of dust, and the manufacturer's instructions must be followed.

Documents à télécharger
Rubrique:
Documents produits
| Numéro d'article | Titre |
| --- | --- |
| K00866 | Certificat FSC® - GB |
| P01064 | Paroi extérieure SWISS KRONO avec bardage en tôles, par ex. pour pans de lucarne - FR |
| P01066 | Paroi extérieure SWISS KRONO avec protection coupe-feu F30 - FR |