Innovation - Tradition - Precision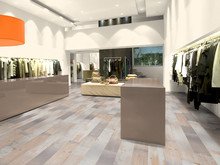 Innovation and tradition go hand in hand at SWISS KRONO TEX GmbH & Co. KG. Our hallmarks are the development of technically advanced, eco-friendly engineered wood materials, a tradition of customer-focused solutions and the utmost precision and quality in manufacturing our products. Our world is innovative and eco-friendly, colourful and communicative. This finds expression in ambitious designs and a plethora of high-quality and high-tech wood-based products for healthier living.

Innovations are indispensable for driving profitable growth. In awareness of this, we continually optimise our research and development activities. This yields a steady stream of value-adding innovations that are readily adopted by the markets.

The latest new achievement of our R&D department is flame-resistant OSB. SWISS KRONO OSB flameproof Stop Fire, German technical approval no. EN 300, T+G - flame resistant meets the strict European test criteria and other requirements that building materials must satisfy to qualify for this fire rating.

We have added innovative decors to our collections. The new surface structures approximate the look and feel of real wood and stone more closely than has ever before been achieved. Customers in more than 80 countries are already convinced of the benefits of these forward-looking "made in Germany" products.

Looking ahead, we will continue to foster a highly motivating climate of creativity in order to successfully introduce new, progressive ideas to the market for wood-based materials.