Anchored in History: Forward-Looking Sustainability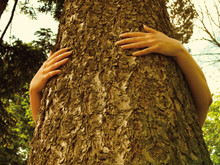 As far back as 1560, the German state known as the Electorate of Saxony passed forestry laws based on the idea of sustainability. In those days, there was a considerable demand for wood for use in the mining industry, but good sense prevailed and the harvesting of wood was limited to a volume "that the forests can tolerate … so that long-term utilisation might continue."

We continue to comply with this historically anchored principle by only purchasing wood from sustainably managed forests – while ensuring even greater sustainability. We have further developed and extended the original idea, adopting the modern view that environmental protection, business success and responsibility to society are equally important pillars of our everyday activities.

Ultimately, our certified environmental management system results in continual optimisation of resource consumption. The best example of efficient, sustainable use of the natural resource of wood is, in every respect, eco-friendly cascading (sequential) use of it.

With our innovative products and solutions for healthier living, we improve both our own environmental footprint and that of our customers and suppliers. Where business is concerned, we are committed to long-term, continual value creation. And in respect of social responsibility, we foster and train our employees while striving to improve the social environment in which we operate.

Sustainability in Practice: Eco-Friendly Construction

We know from experience that owners, architects, merchants and the building trades are opting more and more often for forward-looking, eco-friendly, high-quality construction methods. New architectural concepts are leading to attractive new solutions for modern-minded people who want to live healthily and in harmony with the environment.

Houses built using wood and wood-based materials are environmentally friendly while providing a healthy, pleasant living environment. And we also practice environmental responsibility where the sources of our raw materials are concerned. We only use wood obtained by thinning sustainably managed forests. We have been certified under the Programme for the Endorsement of Forest Certification (PEFCTM) for taking this eco-friendly approach.

Sustainability Is Our Credo

For us, industrial productivity and environmental protection go hand in hand. We therefore apply state-of-the-art technologies to promote naturally healthy quality of life, and exclusively produce eco-friendly wood-based materials. Our processes are based on natural material cycles and energy flows. These economically and environmentally sustainable principles deliver multiple benefits: to our customers, to us and ultimately to our environment.

Our management policy is firmly anchored in the operational processes of SWISS KRONO TEX GmbH und CO. KG via an integrated management system. The management of both firms is committed to lastingly ensuring and continually improving the effectiveness of this system while meeting all associated legal and other requirements, also where energy use, energy consumption and energy efficiency are concerned.