Berlin Paves the Way for Timber Construction
Kategorie: Innovations, Products, Industry news
05. June 2018 | Slowly but surely, more German states are jumping on the bandwagon: following Baden-Württemberg and Hamburg, Berlin has now also adjusted its building regulations to support the trend toward timber.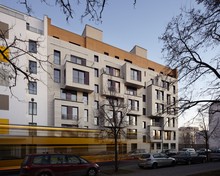 A key passage on timberconstruction has been added to Berlin's building code. Article 26, Paragraph 3now specifies that:
"Notwithstandingthe provisions of Paragraph 2, Sentence 3, building components that must behighly fire-inhibiting or flame-retardant may now also consist of wood providedthat they possess the required fire resistance."
This sentence, whichentered into force on March 22, 2018, considerably improves the prospects oftimber construction by making it much easier to obtain building permits for theGerman capital city. What's more, Berlin hasn't merely created a loophole formassive timber construction, but in fact has opened the floodgates for thewhole spectrum of related building methods. As long as materials have afire-resistance rating of F60 (highly fire-inhibiting) or F90 (fire-resistant),they can also be used for ceilings, interior walls, columns and so on. Thispaves the way for multi-storey residential and commercial buildings made oftimber and engineered wood.
SWISSKRONO MAGNUMBOARD® OSB Wall Systems with Integrated Fire Protection
This change to Berlin'sbuilding code has made it much more straightforward to get permits for and useSWISS KRONO modules for walls and ceilings. We have developed a variety of suchmodules to meet different fire protection requirements, for example:
MAGNUMBOARD® OSB ExteriorWall with F90 Fire Protection
Directly finishable on the inside while following providedinstructions
100mm of MAGNUMBOARD® OSB
2 x 12.5mm of gypsum fireboard with F90 rating inaccordance with P-3108/4134-MPA-BS
Thermal insulation and exterior wall or externalthermal insulation composite system (ETICS)
Rw = 40 dB acc. to according to expertise no.17537203 by ift in Rosenheim, Germany
The fire resistance of other constructions can becalculated in accordance with DIN EN 1995-1-2 on the basis of the burn rate. Forexample, constructions consisting of MAGNUMBOARD®OSB fully comply with the requirements, even without any additional boarding.
Details and dimensioning tables for wall, ceiling and roofconstructions are available for downloading here.
In our article "Subsidies for Building and Renovation Projects in Germany", we have compiled the possibilities for obtainingfinancial support for timber construction from the German federal government,the states and local communities as well as other institutions.
Five Latest Articles
More articles