SWISS KRONO OSB Certified as Food Safe
Kategorie: Innovations, Products
22. July 2019 | Independent institute tested SWISS KRONO OSB for food safety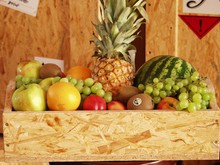 ISEGA, an independent testing, research and certification institute in Aschaffenburg, Germany, has confirmed that SWISS KRONO OSB is suitable for packaging food.
The issued certificate states that:
"Thus the products SWISS KROO OSB/3 EN300 and SWISS KRONO OSB/3 sensitive according to the sample material submitted may be used safely for keeping and transporting foodstuffs which are washed or peeled before consumption according to experience and may stand in direct contact with them."
This ought to dispel once and for all any concerns about the substances contained in SWISS KRONO OSB. In other words, if SWISS KRONO OSB can be used to package fruit, it's definitely safe enough to build houses with!
For your information, SWISS KRONO OSB consists to over 96% of wood plus 2.5% of formaldehyde-free binders and a small amount of emulsified paraffin wax. Natural resin contained in the wood also has a binding effect. Due to the low natural formaldehyde content of the wood used, SWISS KRONO OSB boards have formaldehyde emissions of only 0.01 ppm. This is just a tenth of the 0.1 ppm ceiling established by the E1 guideline! They also undercut the maximum emissions of 0.03 ppm which various German timber construction associations are calling for.
SWISS KRONO OSB: a High-Performance, Eco-Friendly All-Rounder
Excellently suited for loadbearing and reinforcing uses, CE-certified according to DIN EN 13986 and produced in compliance with EN 300, SWISS KRONO OSB/3 is a versatile engineered wood material for new buildings, annexes and vertical extensions, and refurbishments. Featuring ContiFinish® surfaces, these sturdy boards also excel in moist environments. SWISS KRONO OSB/3 sensitive EN 300 made from Populus thinnings is especially well-suited for highly sensitive uses due to its extra-low emissions.
SWISS KRONO makes its products using mainly wood from sustainably managed German forests, most of them located nearby.
Five Latest Articles
More articles