SWISS KRONO OSB/3 SF-B EN300: a Classic Product with Built-In Fire Safety
Kategorie: Innovations, Products, Industry news
15. October 2020 | Flame-retardant SWISS KRONO OSB/3 SF-B EN300 is CE-certified under DIN EN 13986 and an ideal engineered wood product for loadbearing and reinforcing applications. Test series have shown beyond a doubt that SWISS KRONO OSB/3 SF-B EN300 resists catching fire even after prolonged exposure to flame; instead, it chars to form a fire-inhibiting layer.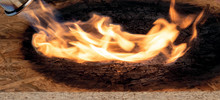 A flame-resistant OSB product with DIBt expertise and tested burn rate
Consequently, this OSB board helps:
prevent the spread of fire,
keep the ambient temperature from increasing greatly and
almost completely stops smoke release.
Tested Burn Rate
Tests have demonstrated that the burn rate as defined by DIN EN 1995-1-2 is only 0.56 mm per minute. SWISS KRONO OSB/3 SF-B EN300 is therefore excellently suited for containing fires: boards 18 mm thick are able to resist exposure to flame for more than half an hour.
All of the wood that goes into making this product is pre-treated with flame retardant, thus making it highly resistant to catching fire – in contrast to many other engineered wood materials, also after being sawn or otherwise worked, and even at corners and edges. SWISS KRONO OSB/3 SF-B EN300 has qualified for reaction-to-fire class B-s1,d0 according to EN 13501-1 (formerly B1). It therefore complies with the new, stricter German and European requirements for public buildings and may be used in them.
DIBt Expertise
In September 2020, a DIBt expertise was issued on SWISS KRONO OSB/3 SF-B EN300. It confirms that this OSB board complies with the ceilings on volatile organic compounds (VOCs) and may therefore also be used in building interiors without problem. The expertise states:
"The purpose of this expertise is to evaluate compliance with the health protection requirements for building structures pursuant to the German Model Administrative Regulation on Technical Construction Requirements (MVV) TB 2019/1, Annex 8, in connection with the use of the engineered wood products 'SWISS KRONO OSB/3 SF-B'. (…) Having reviewed the submitted evidence, it is hereby confirmed that the official requirements for protecting human health are met when the aforementioned construction products are installed in inhabited rooms. (…) The potentially hazardous substances they contain have been assessed on the basis of the completely declared chemical composition of the product. On the basis of this information, it may be concluded that when used as intended, the product does not pose any risks to building users."
Easy Use
These flame-retardant OSB boards can used exactly like our standard OSB boards. Compared to other flame-retardant products such as cement-bonded particleboard or gypsum fireboard, SWISS KRONO OSB/3 SF-B EN300 delivers multiple benefits:
Lower mass

Very low dust production when sawn

Significantly reduced blunting of tools

Use of standard screws
Another advantage of SWISS KRONO OSB/3 SF-B EN300 is that when using the tongue-and-groove version, the boards can be so tightly connected that, with proper installation, not even smoke penetrates the joints. Most cement-bonded boards are only available with square edges, making it necessary to laboriously bond them and additionally apply plaster over the seams.
For a comparison with gypsum fireboard and cement-bonded particleboard, watch the video on the corresponding product page.
Environmental Benefits
Especially the ecological footprint of cement-bonded particleboard cannot compete with that of SWISS-KRONO-OSB/3-SF-B-EN300. Its high cement content contaminates the environment during both production and use. Flame-retardant SWISS KRONO OSB boards, by contrast, are made using mainly thinnings from sustainably managed forests in Germany. Short transport distances, reduced consumption of natural resources and the use of completely formaldehyde-free binders all contribute to upholding SWISS KRONO's commitment to manufacturing and supplying safe, natural feel-good building products.

2020 09 DIBt Gutachten G 160 20 005 SK OSB SF B.pdf
Copyright SWISS KRONO TEX GmbH & Co. KG
Download: (66 kB)
Five Latest Articles
More articles