Schweighofer Award for Gantry Robot Developed by ERNE AG Holzbau
Kategorie: Industry news, General
07. July 2017 | Congratulations to a Long-Time SWISS KRONO Customer
ERNE AG Holzbau has been chosen to receive one of the 2017 Innovation Awards for the European Forest-Based Sector. The Swiss building firm developed Europe's largest gantry robot for assembling timber structures in cooperation with the ETH Zurich (Swiss Federal Institute of Technology in Zurich) and industry partners.

The robot is used to create highly complex timber structures. An example is the roof of the Arch_Tec_Lab, a Zurich-based research facility devoted to digital manufacturing, which was completely prefabricated by the robot. This truss construction comprises 168 joined and nailed beams with a total of 48,624 elements, 820,000 nails and 65,000 nodes.

The gantry robot has seven axes and a flexible tool-changing head for industrial-scale additive manufacture of large-format structures using a variety of materials. It is able to cut components to size and then join and attach them, yielding results not unlike those of a 3D printer. A very important aspect is the robot's adaptability. If a component changes in some way, for instance its dimensions, then all of the relevant data for the process are automatically adjusted accordingly – in real time. The gantry robot is able to serially produce complex shapes up to 48 metres long, which makes it possible to quickly erect buildings while optimising resource use.

"We want to congratulate ERNE AG Holzbau, which has been a customer of ours for many years, on this fantastic achievement," says Uwe Jöst, Managing Director of SWISS KRONO Germany. "They keep amazing us with their trailblazing new developments, which are helping to shape the future of timber construction." ERNE is also open to innovations in the field of modular construction. For example, the Swiss firm used the first SWISS KRONO OSB Longboards to assemble an interim school building in Nuremberg.

The Schweighofer Award has been presented every two years since 2003 to honour outstanding ideas, technologies, products and services in the value chain of the European forestry and timber sectors. The aim is to encourage interdisciplinary projects and collaboration between science and industry. Each time a total of 300,000 euros in prize money is handed out to the winners of a main award and several innovation awards.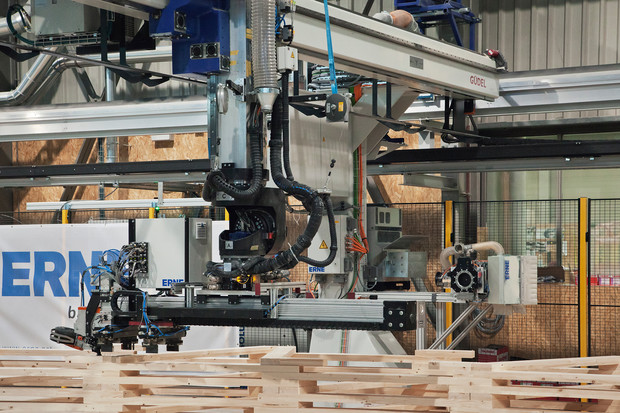 Five Latest Articles
More articles