SWISS KRONO Exhibits at HolzLand-EXPO in the Nürburgring
Kategorie: Press, General
08. June 2018 | This year, the biannual HolzLand-EXPO trade fair, devoted to wood and timber construction and products, will be held on June 20 and 21 at the legendary Nürburgring, a motorsports complex which is famous for Formula One races and more.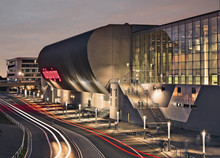 SWISS KRONO in Heiligengrabe will exhibit its entire assortment of OSBboard and KRONOTEX laminate flooring products at two stands. A special featurewill be flooring products of our own special HQ brand (HQ stands for HolzLandQuality). We will highlight the Tagara Oak décor (D 3901), which is characterisedby a vibrant nature-identical surface structure.
HolzLand is a purchasing collective that currently comprises 280 independent timber retailers, most of which are based in Germany, Austria and Switzerland. Every two years they gather at a special location to hold the fair supplemented by a full programme of other activities, this year with the theme of motorsports.
Five Latest Articles
More articles