QuicklyBoard OSB/3 EN300, square-edge - Contifinish®
The Universal Formwork Board








SWISS KRONO quicklyboard is a versatile building panel and formwork board for basic concreting jobs. It boasts outstanding bending properties, and its ContiFinish® surface both inhibits penetration of moisture and ensures easy stripping.
A Harmonised System

On the Services page, you can download a large number of system modules for building new houses and modernising and renovating existing ones with SWISS KRONO products. Click here to go straight to the download section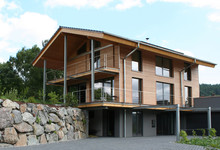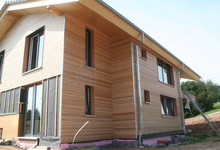 Economic and Easy to Use
SWISS KRONO quicklyboard lends itself to all formwork applications, and can also be easily cut to size for structural uses and construction site fences. It is competitive and economic, and is simple to saw, cut and nail. Its very good nail and screw holding power makes sure that it stays securely fastened to any substrate. Thanks to the ContiRoll® technology used to produce SWISS KRONO quicklyboard, swelling is negligible. The grained surface of the boards leaves an attractive imprint on concrete. It is an economic alternative to conventional plywood for formwork.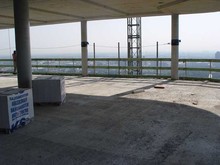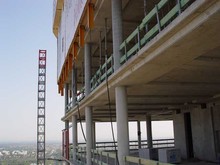 Strand direction


Major axis

Minor axis
Nominal board thicknesses [mm]
d
20
20
Strength values [N/mm²]


Stresses on board


Bending
fm,k
16.4
8.2
Compression
fc,90,k
10.0
10.0
Shear
fv,k
1.0
1.0
Plate loading


Bending
fm,k
9.4
7.0

Tensile force
ft,k
9.4
7.0
Compression
fc,k
15.4
12.7
Shear
fv,k
6,8
6,8
Stiffness values [N/mm²]


Stresses on board


Bending modules of elasticity
Em,meana
4930
1980
Shear modulus
Gmeana
50
50
Plate loading


Modulus of elasticity
Em,meana
3800
3000
Shear modulus
Gmeana
1080
1080
a The characteristic stiffness values E05 and G05 are calculated as follows:
E05 = 0.85 x Emean und G05 = 0.85 x Emean
General and building physics values


Max. deviations in board thickness
± 0.8 mm (ContiFinish®)
Tensile strength perpendicular to plane of board
σZy
0.15
0.15
Thermal conductivity acc. to EN 13986
λ
0.13 W/mK
Thickness swelling acc. to EN 317
≤ 15%
Waste code
EWC code

03 01 05
Emissions class
E1 – 100% formaldehyde-free binders

VOC‐emission / DIBt‐Certificate:

G‐160‐18‐0001: Compliance with the Health Protection Requirements for Building Structures in acc. with Annex 8 of the German Model Administrative Regulation on Technical Construction Requirements (MVVTB 2017/1)
Environmental product declaration as per ISO 14205
EPD-KRO-20150067-IBD2-EN
Utilisation class acc. to EN V 1995-1-1
1 + 2
Reaction to fire performance class acc. to EN 13501-1
D - s2, d0
Declaration of Performance no. acc. to CPR
SKDE_KH_CPR_2019_047_EN
Format [mm]
Thickness [mm]


9
18
20


Pieces per pallet
2500 x 1250




46
Special formats and thicknesses on request
Laying and Boarding




When laid closely with butt joints in interior walls, leave room for expansion where the boards adjoin other structures.
The storey-high formats are produced with a slightly reduced width (of 1247 mm) to allow for expansion.
Coating and Varnishing




SWISS KRONO OSB with a ContiFinish® surface may be coated with a solvent-containing PU (DD) or synthetic-resin varnish.
Sanded surfaces may be coated like normal wood (e.g. with varnishes, paints, oils, waxes and glazes).
It is advisable to apply at least three coats, sanding after the first one.
Application of at least three coats is recommended.
The only way to achieve an absolutely smooth surface is to apply filler.
Transport and Handling




Take steps to prevent the boards, and especially the unprotected edges, from absorbing large amounts of moisture during transport and installation. Be careful not to damage the edges when lifting, moving and stacking boards (this applies especially to tongue-and- groove boards).
Check against the labels or producer's documentation on-site to make sure that the following are correct: thickness, approved utilisation class, surface (sanded or ContiFinish®) and edge type (square-edged or tongue-and-groove).
During installation, boards may be briefly leaned against a solid structure at a 70° angle.
Always carry individual boards in an upright (vertical) position.
Storage




Protect boards from exposure to significant moisture or very high relative humidity.
Prevent direct contact of the boards with the floor. Only store outdoors temporarily, and if unavoidable cover stacks with watertight but water-vapour-permeable tarpaulins.
Always stack boards horizontally on pallets and wooden supports (spaced no more than 600 mm apart).
Align wooden supports precisely with one another and parallel to the shorter side of the boards.
Lay the boards so their edges line up (with a maximum overhang of 15 mm).
Acclimatisation




Precondition boards prior to installation.
Store boards for about three days under the same climatic conditions that prevail at the installation site.
This adjustment to the ambient moisture at the installation site will prevent excessive shrinkage or swelling.

Sawing, Milling, Sanding and Drilling




SWISS KRONO OSB can be sanded, sawn, milled and drilled just like solid wood and using all of the same tools.

Nailing, Stapling, Screwing and Gluing




SWISS KRONO OSB can be attached to wooden studs and rafters using screws, nails or staples.
Use in accordance with the official approvals and standards (Z-9.1-618, Z-9.1-503 and DIN 1052 in Germany as well as EN 1995-1-1 (EC 5)).
Additionally bond or glue tongue-and-groove joints.
Downloadable documents
Category:
| Art. No. | Title |
| --- | --- |
| P01732 | SWISS KRONO LONGBOARD OSB und MAGNUMBOARD® OSB Quality management and Processing instructions - GB |
| P00450 | SWISS KRONO Delivery programme Flyer - English |
| P00086 | SWISS KRONO OSB Environmental product declaration (EPD) - English |
| P00241 | SWISS KRONO OSB Full-line catalogue Brochure - English |
| P00913 | SWISS KRONO OSB Installation Manual - Natural Stability - English |
| P00595 | SWISS KRONO OSB Material Safety Data Sheet - English |
| P00946 | SWISS KRONO Product Tolerances - English |
| P01459 | Sintef OSB/3 Certificate - English |
Product documents
| Art. No. | Title |
| --- | --- |
| P01035 | Base Details - English |
| P01036 | Base Details - English |
| P00940 | KRONOPLY OSB/3 Formaldehyde release acc. to DIN EN 717-1 - English |
| K00316 | PEFCTM Chain-of-Custody Certificate - English |
| P01189 | SWISS KRONO LONGBOARD OSB and MAGNUMBOARD® OSB Brochure - GB |
| P01045 | SWISS KRONO Exterior Wall with Sheet-Metal Cladding, e.g. for Dormer Cheeks - English |
| P01047 | SWISS KRONO Interior Fire Wall - English |
| P01354 | SWISS KRONO Layers of SWISS KRONO OSB - English |
| P00955 | SWISS KRONO OSB - CodeMark Australia - English |
| P00088 | SWISS KRONO OSB/3 CE certificate - English |
| P00415 | SWISS KRONO OSB/3 data sheet - English |
| P01156 | SWISS KRONO OSB/3 dimensioning reference tables - English |
| P00942 | SWISS KRONO OSB/3 in 30 and 40 mm data sheet - English |
| P01459 | Sintef OSB/3 Certificate - English |