SWISS KRONO HDF
Creative Multitalents




A Strong Base for Strong Floors
Under laminate, cork or vinyl, SWISS KRONO HDF is a strong base for strong floors. Amongst other things, we use SWISS KRONO HDF boards between six and 12 mm thick as the core material for our own top-quality SWISS KRONO laminate floors.
The core boards for heavily stressed floors need to be of exceptional quality. High-resin Scots pine wood and special gluing, amongst other things, ensure the excellent swelling behaviour of this product.
A Harmonised System

On the Services page, you can download a large number of system modules for building new houses and modernising and renovating existing ones with SWISS KRONO products. Click here to go straight to the download section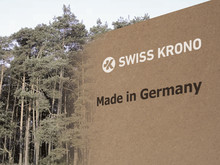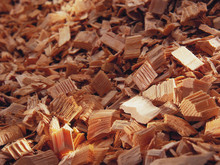 Made by Nature - Powered by KRONO
High-density fibreboard (HDF) is manufactured in a dry process involving high pressure. According to EN 316 (which defines and classifies fibreboards), MDF boards with a bulk density above 800 kg/cu.m are considered to be HDF. SWISS KRONO HDF has a bulk density of 870 kg/cu.m – ideal for withstanding extreme stresses.

Consistently high product quality is ensured by a large number of highly precise measurement instruments in the production line and constant monitoring and supervision by external experts, and our experienced production professionals. One of the instruments used is a high-resolution STENOGRAPH that monitors the bulk density profile of the SWISS KRONO HDF boards between six and 12 mm thick, during production. In thicknesses up to 12 mm, SWISS KRONO HDF is available to comply with the CARB (California Air Resources Board) Phase 2 standard.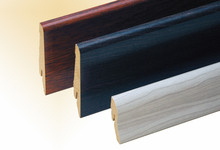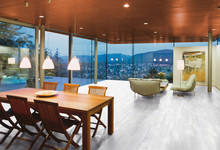 Product Advantages

Extremely robust

Excellent swelling and strength

SWISS KRONO HDF adds to the high flame resistance of laminate flooring

An extremely fine fibre structure and high material density allow milling of a quality comparable to solid wood

Applications

As the core material for laminate flooring

Also suited for cork and vinyl floors

Suitable for finishing and veneering

Can also be milled for tongue-and-groove or click joints

Nominal board thicknesses [mm]
>5
to
6
>6
to
7
>7
to
9
>9
to
10
Properties
Test standard
Unit
Max. deviation in board thickness
EN 324-1
mm
± 0.2
Dimensional tolerance (length/width)
EN 324-1
mm
± 2.0 mm/m, ± 5.0 max.
Squareness
EN 324-1
mm/m
≤ 2.0
Edge straightness
EN 324-1
mm/m
≤ 1.5
Thickness swelling after 24-hour soak
EN 317
%
20
16
14
10
Internal bond
EN 319
N/mm²
≥ 1.5
Bending strength
EN 310
N/mm²
50
55
55
50
Bending modulus of elasticity
EN 310
N/mm²
4000
4000
4000
4000
Surface soundness
EN 311
N/mm²
≥ 2.0
Formaldehyde
content 1)
EN 120
mg/100g
E1
Moisture content 2)
EN 322
%
6 ± 2
Sand content
ISO 3340
%
≤ 0.05
Reaction to fire performance class
EN 13501
Class
D-s2, d0
Bulk density
EN 323
kg/m³
870
Standard grinding
K 100
Water vapour permeability value
EN 13986 Table 9
Mean bulk density: 800 kg/m³
μ moist 20 | μ dry 30
Thermal conductivity
EN 13986 Table 11
Mean bulk density: 800 kg/m³
0.14 W/(m*K)
Sound absorption
EN 13986 Table 10
Frequency range: 250-500 Hz
0.10
Frequency range: 1000-2000 Hz
0.20
1) Perforator value acc. to DIN EN 120. Acc. to the annex to Art. 1, Section 3 of the German directive on banned chemicals, in connection with guideline 100 of the Deutsches Institut für Bautechnik, unfinished fibreboard may not exceed a perforator value of 8 mb HCHO/100 g of dry weight at a moisture content of 6.5%. The gliding half-year average may not exceed 7.0 mg HCHO/100 g of dry weight. 2) Upon delivery
Acc. to customer specification

A Strong Material – Easy to Use

HDF (High-density fibreboard) from SWISS KRONO is used as the core material for making laminate flooring and is also suited for cork and vinyl floors. SWISS KRONO HDF is easy to finish and veneer. This wood-based material is excellently suited for milling tongue-and-groove and click joints.
General Information on Use of All SWISS KRONO MDF Product
Transport and Handling




Protect edges to prevent damage.

These products are for interior use and must therefore be protected from moisture and the weather.

Do not store outdoors.

To prevent rising moisture, stack on top of wooden sleepers.

Acclimate boards before by storing them for about three days beforehand uncovered under the climatic conditions prevailing at the installation site.

Install only when dry.
Sawing, Milling and Drilling




SWISS KRONO MDF can be sanded, sawn, milled and drilled just like solid wood and using all of the same tools.
Screws




To prevent splitting, it is advisable to predrill holes before using screws. It is standard practice for the holes to be 80% of the screw shaft diameter.

Do not attach screws to the plate surfaces closer than 20 mm from the edge.

When attaching screws to the edges, maintain a distance of at least 70 mm from the corners and space them at least 30 mm apart.
Gluing




All commercially available wood glues can be used with SWISS KRONO MDF.

Because the surface layer is denser, it is enough to apply between 80 and 120 g of glue per square meter.
Sanding and Smoothing




SWISS KRONO MDF comes sanded to a fineness of 150 grit.

To meet very high quality requirements, eg for coating and painting, the boards should be sanded before and /or after treatment, depending on the application.
Painting, Coating, Waxing and Lamination




Applying a coating or suitable will minimise the risk that exposure to light will alter the colours, provided that appropriate UV blockers are added.
Sanded surfaces can be coated just like ordinary wood (with paint, oil, wax etc.).)
All commercially available paints, coatings and waxes that are suitable for MDF may be used.
Greatly thinned paint or coating, a low solids content and/or insufficient application can detract from the results.
Before coating, make sure that the surface is absolutely free of oil, grease, silicone and dust.
It is strongly advised to carry out a test before proceeding.
Optimal results are achieved by brushing with strokes at right angles to one another.

Downloadable documents
Category:
Product documents
| Art. No. | Title |
| --- | --- |
| K00316 | PEFCTM Chain-of-Custody Certificate - English |