Outlook: SWISS KRONO at DACH+HOLZ (ROOF+TIMBER) INTERNATIONAL 2020
05. November 2019 | Premiere at DACH+HOLZ: SWISS KRONO will welcome visitors with an actual timber module made of SWISS KRONO MAGNUMBOARD® OSB. The exhibit impressively demonstrates the attributes and benefits of this structural construction system. They include extensive prefabrication, jointless elements up to 18 metres long (in the form of SWISS KRONO LONGBOARD OSB) and especially the ability to directly cover interior surfaces with plaster, paint, tiles or wallpaper without the need to apply an intermediate layer of plasterboard.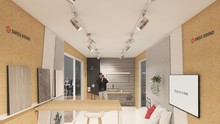 SWISS KRONO being one of the world's largest producers of engineered wood, OSB will naturally feature prominently at its stand. Besides its classic SWISS KRONO OSB/3, the firm based in Heiligengrabe in the German state of Brandenburg will present a range of OSB products and tools that meet very specific requirements and wishes.

SWISS KRONO OSB/SF-B: fire-resistant OSB board

Numerous tests have shown beyond a doubt that fire-retardant SWISS KRONO OSB/SF-B resists catching fire even after prolonged exposure to flame. Instead, its surface chars to form a fire-inhibiting layer, and any glow immediately extinguishes when the fire source is removed. These OSB boards thus help to prevent the spread of fire. As all of the wood which goes into making OSB is treated with fire retardant beforehand, the finished board also possesses this attribute all the way through – also after being sawn or cut, and even at corners and edges. This is a major advantage over engineered wood products to which an external fire-retarding coating is applied at the end of the production process.

SWISS KRONO OSB/3 sensitiv EN 300: an OSB board with greatly reduced emissions

SWISS KRONO OSB/3 sensitiv is made exclusively using wood of Populus species plus a small amount of formaldehyde-free binder. As Populus wood is resin-free, according to the German Committee for Health-Related Evaluation of Building Products (AgBB) these boards are characterised by extremely low VOC values (202 μg/m3 of TVOC emissions measured over a 28-day period). For the same reason, this board does give off a noticeable resin or wood smell, which many very odour-sensitive people experience as unpleasant. SWISS KRONO OSB/3 sensitiv is therefore suited for applications which pose strict requirements in respect of indoor air quality, such as daycare centres, clinics and nursing and retirement homes.

The Blue Angel ecolabel for OSB from Heiligengrabe in Brandenburg

Since October 2019, the SWISS KRONO OSB/3 EN300, SWISS KRONO OSB/4 BAZ and SWISS KRONO OSB/F**** made at the SWISS KRONO Group's German site have borne the Blue Angel. This ecolabel tells consumers that environmentally friendly, low-emission materials such as wood from sustainably managed forests have been used to make this product, which can therefore be used without any qualms in residential buildings.

SWISS KRONO TIMBER PLANNER

Architects, engineers, planners and tradespeople can use the SWISS KRONO Timber Planner to easily find the right components, structures or modules for their construction projects. Various filters for the building class, current regional requirements (in Germany), project type, acoustic and fire insulation specifications and other criteria quickly narrow the possibilities. Components can also be checked and optimised on the basis of their U-value, condensation behaviour and structural strength. There are boilerplates for invitations to tender which can be easily filled with information on selected components and flexibly customised or reused as wished. You can create your own projects and easily send component descriptions to merchants or tradespeople. Technical specifications for selected components can be downloaded in IFC4 format and edited with BIM-capable or CAD software. The Timber Planner is available at timberplanner.com in German and English.

Visit us at DACH+HOLZ International in Stuttgart
In Hall 10, Stand 29 between January 28 and 31, 2020!
Images


Final Dach Holz 20 Swiss Krono 02.jpg NEWS
Preview of the SWISS KRONO stand with a MAGNUMBOARD® OSB module
Copyright Kohlhaas Messebau
Download: (987 kB)

Final Dach Holz 20 Swiss Krono 09.jpg NEWS
Preview of the SWISS KRONO stand with a MAGNUMBOARD® OSB module
Copyright Kohlhaas Messebau
Download: (1.278 kB)

Blauer Engel auf OSB lang 40x45 mm EN.jpg
The Blue Angel for SWISS KRONO OSB/3 EN300, OSB/4 BAZ and OSB/F**** made in Heiligengrabe, Germany
Copyright SWISS KRONO TEX GmbH & Co. KG
Download: (1.761 kB)

SwissKrono Poppenhausen 096 press.jpg NEWS
SWISS KRONO MAGNUMBOARD® OSB: large, dimensionally stable and flexibly prefabricated
Copyright Fotos: www.tmstudios.de
Download: (8.061 kB)

Startseite SWISS KRONO Bauteil Planer.jpg
Screenshot of the initial page of the SWISS KRONO Timber Planner
Copyright SWISS KRONO TEX GmbH & Co. KG
Download: (5.703 kB)
About SWISS KRONO TEX GmbH & Co. KG

Established in 1993, today SWISS KRONO TEX GmbH & Co. KG in Heiligengrabe in the German state of Brandenburg belongs to the SWISS KRONO Group, one of the world's leading makers of engineered wood products. The German site's core competencies are high-quality laminate flooring of the KRONOTEX brand and high-performance OSB and MDF boards sold under the SWISS KRONO brand name. The firm provides customer-focused solutions comprising innovative eco-friendly products made from wood, a natural raw material, in awareness of its responsibilities to society, backing them up with comprehensive advice and support. Its more than 700 staff in Heiligengrabe make bespoke engineered wood products and laminate flooring for export to over 90 countries around the globe. www.swisskrono.de

Five Latest Articles
More articles