Panelised Construction with SWISS KRONO LONGBOARD OSB
The approach known as panelised construction is a very fast and efficient way to erect buildings. There are two reasons for this. One is that, unlike heavy construction methods like those involving masonry or concrete, it requires no lengthy drying phases. The other is that extensive prefabrication greatly accelerates construction; a building can be assembled on-site from panels in a very short space of time. The panels are prefabricated in factory halls where poor weather can't hold up the work. Complete wall, ceiling, floor and roof elements can be built. A loadbearing timber framework is covered on both sides with engineered wood boards, which stiffen the structure in addition to performing other functions, and then the gap between them is filled with a thermally insulating material. The panels can even include windows, doors and finished exteriors.

SWISS KRONO LONGBOARD OSB are primarily used on the inside of panels, serving as the windtight layer and vapour barrier. Despite the use of relatively thin walls, panelised construction provides effective insulation, good enough in fact to comply with passive and energy-plus house standards. Another advantage of thin outer walls is that more living space is available than in a conventional masonry house of the same size. At the construction site, the panels are lifted into place and connected. All this makes panelised construction a very efficient, cost-effective approach.
Owner-builders, architects and planners have a virtually free hand in designing building layouts. Panelised construction is very flexible, allowing individual wishes and expectations to be met in the vast majority of cases. Originally employed mainly to build single-family detached homes, its use has meanwhile spread to include many other types of structures as well. Large-format boards facilitate the production of bigger panels, thus paving the way for their increased use in multi-storey blocks of flats. Panelised construction is also making inroads for commercial and industrial buildings. In addition, this approach is now widely used in urban areas for adding storeys and filling in empty lots, owing to its speed and the low weight of the panels.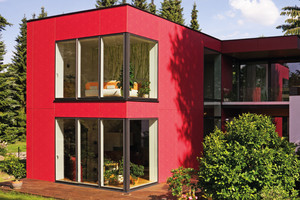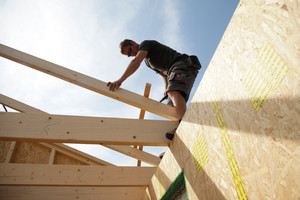 Modular Construction with SWISS KRONO LONGBOARD OSB
Modular construction takes prefabrication a step further, creating not just wall or ceiling elements but entire rooms in the form of modular boxes. SWISS KRONO LONGBOARD OSB make it possible to build large modules measuring 6.5 metres or more on each side using a single board for each. This simplifies the work and speeds up production.
A building is them assembled from the prefabricated rooms, resulting in even faster completion of the on-site work.
Noise and other annoyances are also reduced. This is one of the method's key competitive advantages. The other is that the modules can also be very easily taken down at any time and transported elsewhere for reuse. This makes modular construction an ideal temporary solution for a period of months or even years. If buildings are needed somewhere for a limited time only, it is a fast, eco-friendly and above all economic solution. Buildings assembled using it also feature significantly better thermal and acoustic insulation than conventional container modules made of metal or plastic.
Modular construction is gaining in popularity for student and refugee accommodation, school buildings, nurseries and day care centres, office complexes and hospitals, among others. The dimensions of the modules can be adapted to the needs and wishes of the owner-builder or users, thus providing a measure of flexibility and individuality despite the fact that the modules are prefabricated.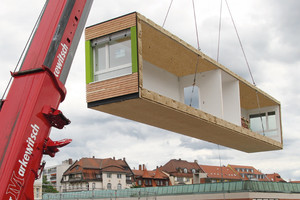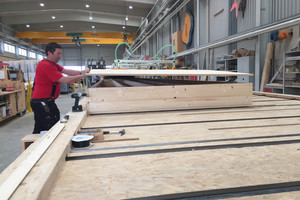 Overview of the Benefits of Panelised and Modular Construction:
Fast and easy assembly due to a high level of prefabrication
Excellent thermal and acoustic insulation
Compliance with fire protection requirements
Thinner walls for more usable sp
Highly flexible layouts and design
Sustainable, eco-friendly construction with natural materials that can be used for other
Value retention and long life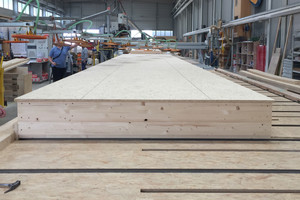 SWISS KRONO LONGBOARD OSB UND MAGNUMBOARD® OSB Brochure
Copyright SWISS KRONO GmbH
Download: (5.451 kB)