Precise and Solid – SWISS KRONO MAGNUMBOARD® OSB panels are prefabricated with sub-millimetre accuracy using CNC technology to ensure a perfect fit. Even architecturally demanding buildings are straightforward to erect with them. Owing to its multi-layer structure, SWISS KRONO MAGNUMBOARD® OSB is very dense and solid. Experts rave about walls made with it, which are stronger and more dimensionally stable than any kind of masonry.
A Minimum of Glue – – As the surfaces of the layers are sanded to extraordinary smoothness, only a tiny amount of glue is needed to bond them together. Altogether, SWISS KRONO MAGNUMBOARD® OSB members don't contain any more glue than cross-laminated timber. Even better, the glue is absolutely formaldehyde-free.
Can Be Directly Covered – SWISS KRONO MAGNUMBOARD® OSB panels can be directly coated or finished, for example with various kinds of plaster (KNAUF Rotkalk System, Sto) or paint (Caparol). AIt is also possible to directly tile them with Ceresit construction adhesive. There is no need to cover them with plasterboard first.
Calculable Fire Protection – SWISS KRONO MAGNUMBOARD® OSB is approved for buildings up to 13m high, units with up to 400m² of floor space, subterranean structures and various other less-common building types. Due to the high homogeneity of SWISS KRONO MAGNUMBOARD® OSB elements, the burn rate as defined by DIN EN 1995-1-2 is easy to calculate.
Benefits at a Glance:

Made to 96% from thinnings from sustainably managed forests
Contains only 4% formaldehyde-free binder
100% food-safe (based on an expert assessment, which is available on request)
Excellent structural metrics
Extremely low tendency to swell or shrink
Fire protection tested or calculable acc. to DIN EN 1995-1-2

Solid, jointless wall, roof and ceiling panels up to 18 x 2.8m in size

Flexible prefabrication without having to follow a prescribed grid
Fast and easy on-site assembly
Good thermal and acoustic insulation
Directly coatable on the inside without applying plasterboard etc. first
Wind- and airtight building envelopes without time-consuming taping of butt joints
Large heat-storage mass for a pleasant indoor climate
Flexible architectural possibilities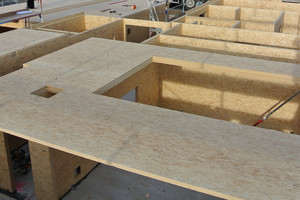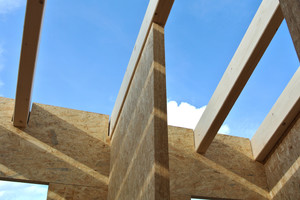 materialPREIS2018 for SWISS KRONO MAGNUMBOARD® OSB

The materialPREIS is awarded each year by raumPROBE, a prestigious German agency, to honour architects, planners and producers for exceptional new materials.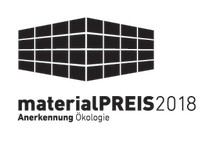 This year 118 entries were submitted, among them the SWISS KRONO MAGNUMBOARD® OSB massive timber construction system, which received a special mention in the "Ecology" category. The decision was made by the managing directors of raumPROBE, Hannes Bäuerle and Joachim Stumpp, and Jörg Schmitt, who is in charge of the competition. The issued certificate states: The issued certificate states: "This high-quality material reflects outstanding competency in materials." One of the main reasons why this material was acknowledged at materialPREIS2018 is that its surfaces can be directly finished with plaster, paint, wallpaper or tiles for interior use without the need to cover them with plasterboard first. It also attracted attention because it is coated with KNAUF Rotkalk, a product that consists entirely of natural materials, regulates humidity and supports healthy living in an optimal indoor climate.